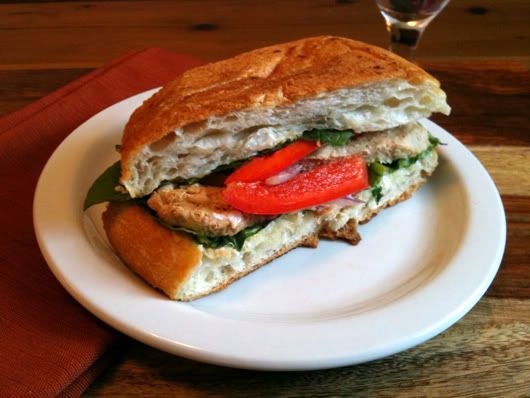 One of the first things someone will ask me
after learning that my diet is pure vegetarian (more commonly known as vegan) is, "What do you eat?" This of course is usually followed by, "How do you get your protein?" And I'm always happy to answer, because the truth is, I easily get plenty of protein and there's not much I
don't
eat.
Quinoa, nuts, lentils, beans, edamame and tofu are all fabulous plant-based proteins and I use them often in favor of prepared soy-based mock meat products like Tofurky, which I'm not a big fan of. But sometimes, especially when I'm cooking for omnivorous friends and family, I find it necessary to make something a little meatier. In this sort of situation, I now turn to Gardein.
Since discovering Gardein, I've found it much easier to quickly make dishes that I normally never would have considered possible before. Thanks to this savory-tasting meat substitute that has a very authentic texture, I can take nearly any recipe that calls for beef, chicken or pork and recreate it to accommodate a pure vegetarian diet.
There are also plenty of dairy substitutes on the market: soy, rice and nut milks; non-dairy cheese, ice creams… The list goes on. My personal favorite prepared non-dairy products are Tofutti. I use Tofutti Better Than Cream Cheese in my Carrot Sweeties recipe and no one ever knows the difference. But the real secret (which isn't so much a secret anymore as chefs and most savvy pure vegetarians are using it) is cashew cream. Cashew cream is made from raw cashews. Cashew cream is easy to make and can be used as a base for cheeses, ice creams and even whipped cream.
Below are two of my personal recipes from a lunch I served to a friend who was visiting earlier this afternoon: Gardein "Chicken" Sandwich with Arugula, Red Pepper and Garlic Mayonnaise, and a Hot Fudge Banana Split Sundae with Whipped Cashew Cream. The lunch was a hit and my omnivorous friend, who had been told that
her
meal was a chicken sandwich and a regular hot fudge sundae for dessert, had no complaints… Until she learned that her meal had been pure vegetarian, too — after the fact — when she realized that she'd been duped!
GARDEIN "CHICKEN" SANDWICH
WITH
ARUGULA, RED PEPPER AND GARLIC MAYONNAISE
For two sandwiches:
One package of Gardein Chick'n Fillets

Safflower oil

Coarse sea salt

Freshly ground black pepper

One large (cut in half) or two small ciabatta squares

Garlic Mayonnaise* (recipe follows)

¼ cup very thinly sliced red onion

Four large arugula leaves

Two large romaine leaves

½ red bell pepper, julienned
Make the chicken:
Rub each fillet with a dish towel or paper towel to remove the seasoning that comes on the packaged product. You can also run them under cool water and then pat dry, but be very careful because they break apart easily. Salt and pepper the fillets on both sides.
Place a non-stick pan over medium-high heat. Drizzle safflower oil to lightly coat the bottom of the pan. Sear the fillets until lightly browned and heated through, about 2 minutes on each side. Remove to a plate.
Warm the ciabattas on the pan, pressing down with a spatula, until toasted, turning over to toast both sides. Remove from pan and split in half horizontally.
Assemble the sandwiches:
Apply a generous amount of Garlic Mayonnaise to the inside of each piece of ciabatta. Divide the onion, arugula, romaine, red pepper and Chick'n Fillets between the two bottom ciabatta pieces and cover with the top pieces. Slice in half and serve immediately.
*Garlic Mayonnaise
1 tablespoon garlic paste

1 cup vegan mayonnaise (I prefer Vegenaise)

Juice of 1 lemon

½ teaspoon sea salt

1 teaspoon freshly ground black pepper
Place all of the ingredients in a bowl and whisk well to combine.
And for dessert: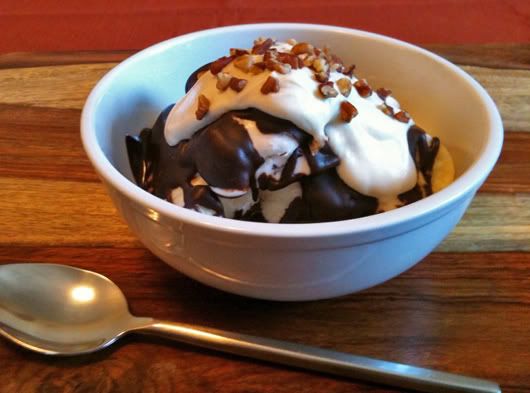 HOT FUDGE BANANA SPLIT SUNDAE

WITH

WHIPPED CASHEW CREAM
For two sundaes:
One pint of non-dairy ice cream (for this lunch I used Purely Decadent's Cookie Dough)

One banana

3 tablespoons soy or almond milk

2/3 cup vegan chocolate chips (I use Ghirardelli semi-sweet)

¼ teaspoon light agave nectar

Whipped Cashew Cream, pre-made* (recipe follows)

1 tablespoon chopped pecans
Make the chocolate sauce:
Place a small saucepan over medium heat. Add soy or almond milk and stir until just about to simmer. Remove from heat and add chocolate chips. Stir until chocolate chips are melted and combined with the milk. Add agave nectar and stir in until combined.
Assemble the sundaes:
Divide the pint of non-dairy ice cream between two bowls. Peel and cut the banana in half, then slice each half lengthwise. Place two banana slices in each bowl, one on each side of the ice cream. Drizzle generously with chocolate sauce. Add two spoonfuls of Whipped Cashew Cream and garnish with chopped pecans. Serve immediately.
*Whipped Cashew Cream
by Tal Ronnen
1 cup whole raw cashews (make sure the cashews are raw and not roasted, otherwise your cashew cream will have a cashew-y taste.)

¼ cup light agave nectar

½ teaspoon vanilla extract

2/3 cup refined coconut oil, warmed until liquid
Put the cashews in a bowl and add cold water to cover them. Cover the bowl and refrigerate overnight.
Drain the cashews and rinse under cold water. Place in a blender with enough fresh cold water to just cover them. Blend on high for several minutes until very smooth. Add the agave nectar, vanilla and 1/4 cup water. Blend until thoroughly combined.
With the blender running, slowly drizzle the coconut oil in through the hole in the blender lid. Blend until emulsified.
Pour into a bowl and chill in the refrigerator, covered, for two hours or more.
Stir before serving.