Simple to prep and incredibly fresh and delicious

, this cold orzo salad is packed with chickpeas and cherry tomatoes, making it a perfect summer dinner on it's own. Nutritional yeast adds extra cheesy flavor in addition to essential vitamins and minerals, like B12, that you'll otherwise miss out on if you're following a pure veg diet full-time.
ORZO DINNER SALAD WITH CHICKPEAS AND CHERRY TOMATOES
1/2 cup extra-virgin olive oil
1/2 teaspoon minced garlic
Kosher salt and freshly ground black pepper
1 can chickpeas (garbanzo beans), drained
1 cup halved cherry tomatoes
2 green onions, thinly sliced (white and green parts)
1/8 cup nutritional yeast
5 ounces crumbled Daiya mozzarella style shreds (see sidebar below for more about Daiya)
Prepare the orzo:

Bring a large pot of water to a boil over medium heat. Add about 2 tablespoons of salt to the water and add the orzo. Cook until tender yet still firm, about 8 to 10 minutes. Drain into a colander and let cool.
Meanwhile, prepare the dressing:

Whisk together the Dijon, olive oil, lemon juice and garlic in a large serving bowl. Season with salt and pepper, to taste.
Add the cooled orzo, chickpeas, cherry tomatoes, green onions, dill, nutritional yeast and Daiya to the bowl containing the prepared dressing. Toss together and taste for seasoning. Add salt and pepper if needed. Serve.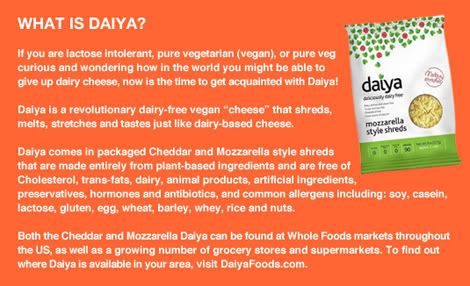 Recipe combined and adapted from
Cooking Light
magazine and Pat and Gina Neely
Photos: Scott Gordon Bleicher