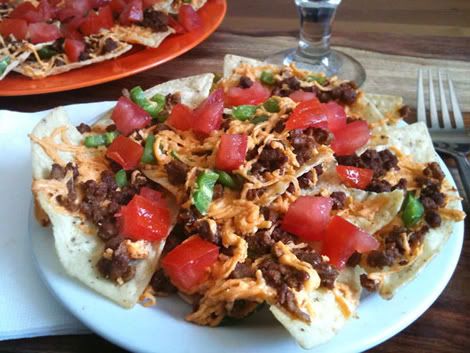 When you want a quick better-for-you
sinfully indulgent snack, nothing beats these deliciously spicy Seitan and Jalapeño Nachos. Use prepackaged seitan or make your own and chop it up in the food processor for instant ground taco filling — a much healthier alternative to ground beef.
What is seitan? Seitan is just gluten — the protein that's left after the starch is removed from wheat. Seitan becomes surprisingly similar to the look and texture of meat when cooked, making it a popular meat substitute. Many swear by homemade seitan but it's a little complicated to make; I usually use plain, packaged seitan that takes on the flavor of whatever you cook it in.
EASY SEITAN AND JALAPENO NACHOS


Ingredients:


For the Seitan
1 pound seitan, chopped in a food processor or blender to make crumbles
1 tablespoon canola oil
1 cup water
1 tablespoon chili powder
1/4 teaspoon garlic powder
1/4 teaspoon onion powder
1/4 teaspoon crushed red pepper flakes
1/4 teaspoon dried oregano
1/2 teaspoon paprika
1 1/2 teaspoons ground cumin
1 teaspoon sea salt or kosher salt
1 teaspoon freshly ground black pepper
To Assemble
White corn chips
3 - 4 jalapeño peppers, seeded and chopped
1 - 2 large ripe tomatoes, diced
Daiya cheddar style shreds
Start by
preheating the oven to 350° F.
Prepare the seasoning:
In a small bowl, combine chili powder, garlic powder, onion powder, crushed red pepper flakes, dried oregano, paprika, ground cumin, salt and pepper. Set aside.
Cook the seitan:
Add 1/2 tablespoon of the canola oil to a large preheated pan and add the seitan crumbles. Cook until browned and warmed through, adding the remaining 1/2 tablespoon of oil halfway through (this will give the crumbles that greasy feel associated with cooked ground beef). Add the taco seasoning mixture and stir in until all of the seitan crumbles are evenly coated. Stir in the water. Reduce heat to medium-low and simmer until most of the liquid has cooked away. Remove from heat and set aside.
Assemble the nachos:
Spread a generous amount of white corn chips over a large baking sheet. Sprinkle with Daiya cheddar until covered. Working quickly, sprinkle with the cooked ground seitan and chopped jalapeños until ingredients are used up. Top with another coating of Daiya cheddar. Place baking sheet in the oven and bake until Daiya has melted, about 10 minutes. Remove from oven and place on a trivet or heatproof surface. Garnish with fresh, diced tomato and serve hot.