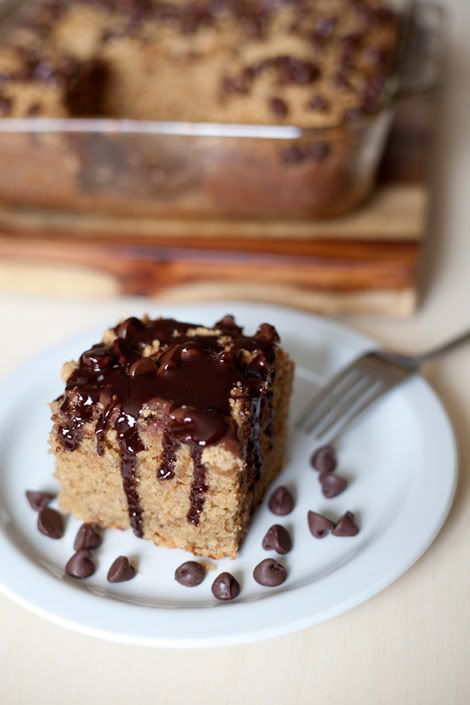 My favorite desserts are always sweet
, but not sickeningly sweet. This moist cake fits the bill nicely. Ground flaxseeds are the egg replacer here — a healthy alternative to chicken eggs.
CHOCOLATE CHIP PEANUT BUTTER CAKE WITH CHOCOLATE GANACHE
Ingredients:
For the Cake
2 ¼ cups unbleached, all-purpose flour
1 ½ cups tightly packed light or dark brown sugar
1 cup chunky all-natural peanut butter
½ cup cold Earth Balance
Pinch of kosher salt
2 tablespoons ground flaxseeds
1 cup almond milk
2 teaspoons baking powder
½ teaspoon baking soda
2 teaspoons vanilla extract
½ cup vegan semisweet chocolate chips
For the Ganache
3 tablespoons soy creamer
1/3 cup vegan semisweet chocolate chips (recommended: Ghirardelli)
1/4 teaspoon agave nectar
1/8 teaspoon vanilla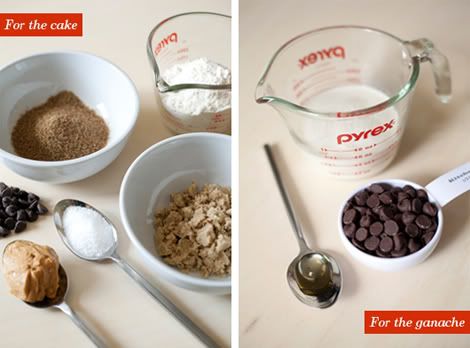 Prepare the cake batter:
Preheat the oven to 350°F. Lightly grease an 8, 9 or 10-inch square pan (if using an 8 or 9-inch pan, bake a few minutes longer). In a large bowl using an electric mixer, combine the flour, brown sugar, peanut butter, Earth Balance and salt, blending at low speed until the mixture forms fine crumbs. Reserve 1 cup of the crumbs for the topping and set aside.
In a small bowl, whip or beat the flaxseeds with 1/3 cup water until frothy and/or the mixture thickens slightly and becomes sticky, like egg. Ideally, the mixture should resemble egg whites in texture. Add the whipped flaxseeds, almond milk, baking powder, baking soda and vanilla to the crumb mixture. Stir well with a wooden spoon to combine, but do not overwork.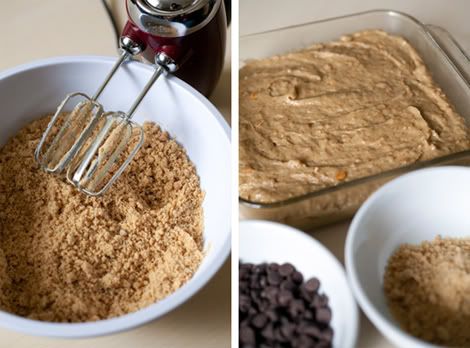 Transfer the batter to the prepared pan. Smooth the top and sprinkle with the reserved crumbs and then the chocolate chips. Bake in the center of the oven for 25 – 30 minutes, until a toothpick inserted into the center of the cake comes out clean.
Let cool to room temperature.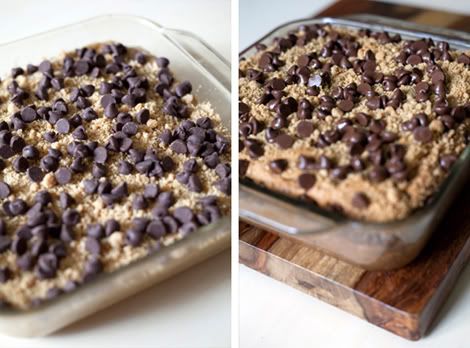 In the meantime, prepare the ganache:
Heat the soy creamer in a small saucepan over medium heat until just about to simmer. Remove from heat; add chocolate chips and stir until chocolate is completely melted and combined with creamer. Add the agave and vanilla and stir in until combined. Set aside and allow to cool for a few minutes.
When the cake is cool, cut and transfer each serving to a plate. Drizzle with the Chocolate Ganache and serve with a sprinkling of chocolate chips.
Chocolate Chip Peanut Butter Cake adapted from a recipe by Tal Ronnen; Chocolate Ganache adapted from a recipe by Isa Chandra Moskowitz
Photos: Scott Gordon Bleicher