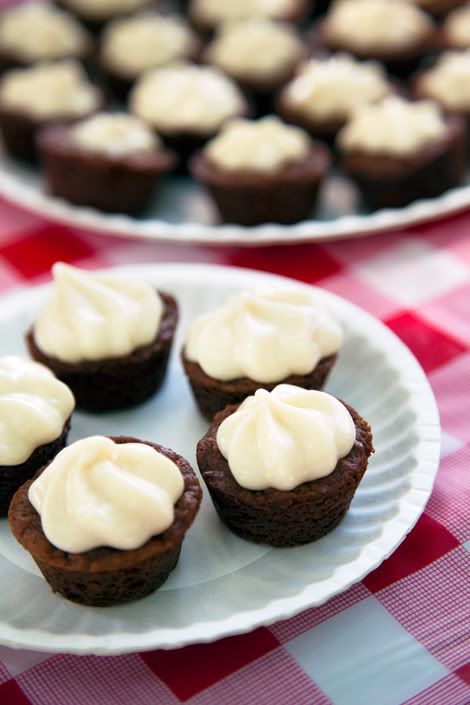 The perfect dessert to take to a picnic in the park:
last week I tried my hand at baking vegan two-bite brownies and — after a little experimentation — had deliciously sweet results. Finish them off by topping with "cream cheese" frosting, and bring a smile to every picnic goers' face.
BROWNIE BITES WITH "CREAM CHEESE" FROSTING
6 oz semisweet vegan chocolate chips plus 1/4 cup more for adding to the batter (recommended: Ghirardelli)
1/2 cup Earth Balance (recommended: Soy Free Spread)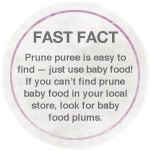 2 cups of sugar
2 5-oz jars of prune puree
1 1/2 cups flour
1 tablespoon baking powder
2 teaspoons pure vanilla extract
For the "Cream Cheese" Frosting
1/4 cup Earth Balance buttery spread
1/4 cup plus one teaspoon Tofutti Cream Cheese (recommended: Non-Hydrogenated)
2 cups confectioner's sugar
1 teaspoon pure vanilla extract
Make the batter:
Preheat the oven to 350°F. Spray two 24-count mini muffin tins with cooking spray and set aside.
Melt the chocolate chips and Earth Balance in a heavy-bottomed saucepan over medium heat, stirring constantly. Once the chocolate is melted and smooth, stir in the sugar and prune puree.
Combine the flour and baking powder in a large bowl. Fold the chocolate mixture into the flour mixture and add the vanilla. Fold the 1/4 cup of chocolate chips into the batter. Pour batter into prepared mini muffin tins, and bake 17 to 20 minutes. Remove from oven and let cool completely on a wire rack.
In the meantime, make the frosting:
Beat the Earth Balance and Tofutti Cream Cheese with a hand mixer until well combined. Add the confectioner's sugar in 1/2 cup batchess and beat until combined. Add the vanilla extract and beat until combined. Place frosting in a pastry bag with a star tip.
Remove the brownies from the muffin tins. Decoratively pipe the frosting on the brownies. Serve.
Brownie recipe adapted from

Vegetarian Times

and Pat and Gina Neely
Photos: Scott Gordon Bleicher