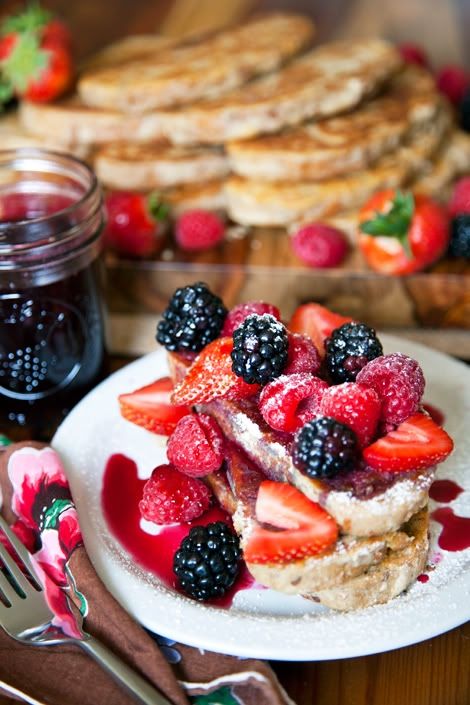 After deciding to go pure vegetarian
, there are certain dishes people tend to think they'll never eat again. French Toast is one of those dishes. The truth is, there are plenty of ways to make French Toast without using eggs or dairy milk and get spectacular results. This healthy, non-dairy recipe for pure veg French Toast — inspired by Isa Chandra Moskowitz's recipe for Pumpkin French Toast — is pleasantly sweet, and any leftover batter mixture can double as pancake batter.
FRENCH TOAST WITH FRESH BERRIES AND BLACKBERRY MAPLE SYRUP
1 cup unbleached all-purpose flour
2 tablespoons baking powder
1/4 teaspoon baking soda
2 tablespoons sugar
1/2 teaspoon cinnamon
Small pinch nutmeg
1 cup unsweetened or vanilla almond milk
2 tablespoons canola oil
1/2 teaspoon pure vanilla extract
1 loaf rustic whole wheat or other bread, stale, cut into 1/2 to 1-inch thick slices
Earth Balance natural buttery spread, for cooking (recommended: soy free)
Fresh blackberries, raspberries and strawberries (sliced), for garnish
Confectioner's sugar, for garnish
15 to 20 fresh blackberries
1/2 cup pure maple syrup
1/4 water
Make the Blackberry Maple Syrup:
Place the blackberries and water in a small saucepan and set over medium heat. Simmer the blackberries in the water until they are soft. Once soft, mash the blackberries with a spatula until they are pulpy and the juice has come out. Add the maple syrup and simmer for about 5 minutes. Strain.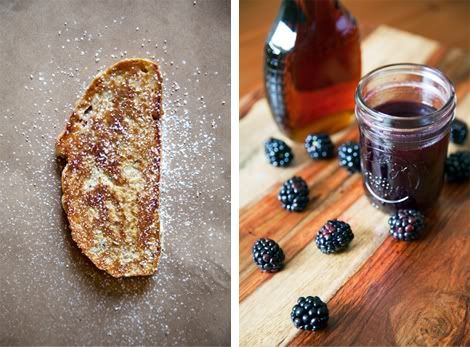 Prepare the batter:
In a large, shallow pan, mix the flour, baking powder, baking soda, sugar, cinnamon and nutmeg together. Add the almond milk, oil and vanilla, and mix together, being careful not to over-mix — it's fine to have small lumps.
Make the French Toast:
Heat a shallow non-stick pan, cast iron skillet or griddle over medium-high heat and melt enough Earth Balance in the pan to just coat it. Using your hands, dip each bread slice in the batter quickly, covering all sides with a thin coating. Wipe away any extra batter — you don't want it too thick, or you'll end up with toast that looks like a pancake has been cooked onto it! You also don't want to allow the bread to soak in the batter, or your French Toast will be soggy.
After lightly coating all sides with batter, put the bread in the pan and cook for 30 seconds to 1 minute, or until golden brown. Flip the bread to the other side and cook for another 30 seconds to 1 minute. Remove from pan and place on a serving dish. Adjust heat if needed, melt more Earth Balance in the pan and continue cooking the rest of the French Toast using the first one as a time guide. Continue adding French Toast slices to the serving dish as they come out of the pan.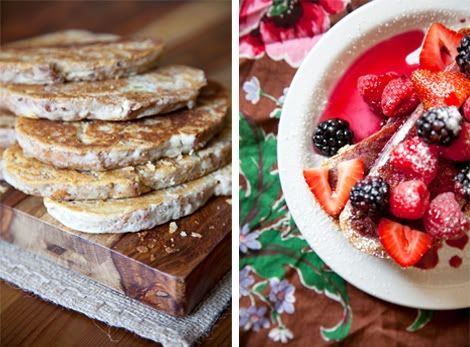 Serve with Blackberry Maple Syrup, topped with a sprinkling of the fresh blackberries, raspberries and strawberries, and a dusting of confectioner's sugar.
Photos: Scott Gordon Bleicher