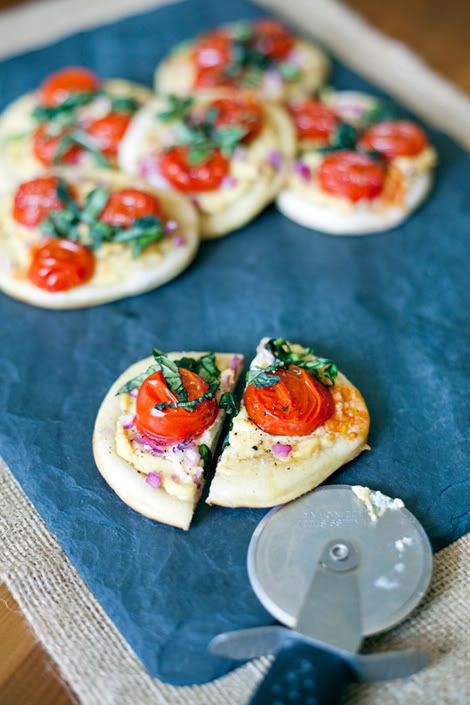 I have always been obsessed
with pizza. And when I adopted a pure vegetarian diet a little over two years ago, I became obsessed with creating pizzas sans cheese (you'll notice many pizza recipes on
Kitchen La Bohème
). These mini pizzas with homemade tofu ricotta make great appetizers—or pile them onto your plate, serve with a fresh garden salad and make them the main course!
CHERRY TOMATO, RED ONION AND BASIL PIZZETTES WITH TOFU RICOTTA
8 ounces firm tofu, pressed to remove most of the moisture
1 1/2 teaspoons nutritional yeast flakes
1/2 teaspoon onion powder
Juice of 1/2 lemon
1/4 cup thick Cashew Cream (recipe follows)
1 1/2 teaspoon white miso paste
1/2 teaspoon sea salt
1/8 teaspoon freshly ground black pepper
1 ball purchased pizza dough (12 to 16 ounces)
Tofu Ricotta (recipe follows)
1/2 large red onion, diced
5 ounces cherry tomatoes, halved
1 tablespoon extra-virgin olive oil, plus more for the dough
1/3 cup fresh basil leaves, chiffonade
Kosher salt and freshly ground black pepper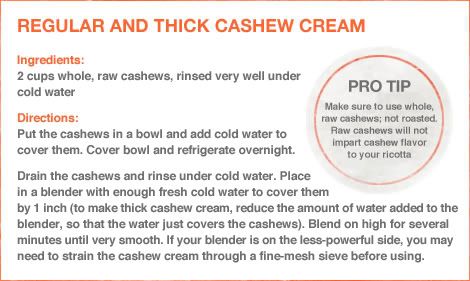 Prepare the ricotta:
Place all of the ingredients in a food processor or blender and pulse until the mixture has the texture of ricotta cheese. Transfer to a bowl and refrigerate until ready to use.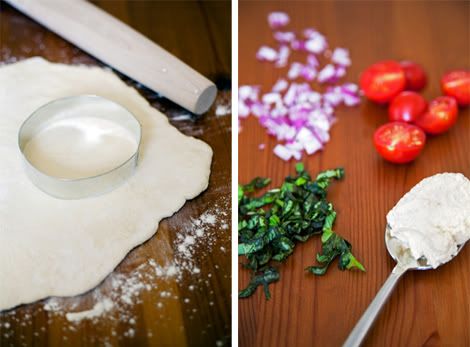 Make the pizzettes:
Preheat the oven to 450°F. Roll out the pizza dough into a 1/8-inch-thick round. Using a 4 inch round cookie cutter, cut out about 15 dough circles. Arrange the circles on 2 large baking sheets. Add a spoonful of tofu ricotta over each circle and spread out to about 1/4 inch from the sides. Top with the onions, then tomatoes, pressing them gently into the ricotta. Bake until the pizzettes are golden brown, about 10 minutes.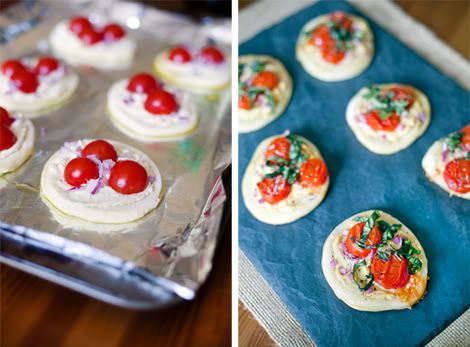 Drizzle the pizzettes with oil, then sprinkle with kosher salt and freshly ground black pepper. Top with the basil.
Arrange the pizzettes on a platter and serve immediately.
Cashew Cream and Tofu Ricotta recipes by Tal Ronnen
Photos: Scott Gordon Bleicher