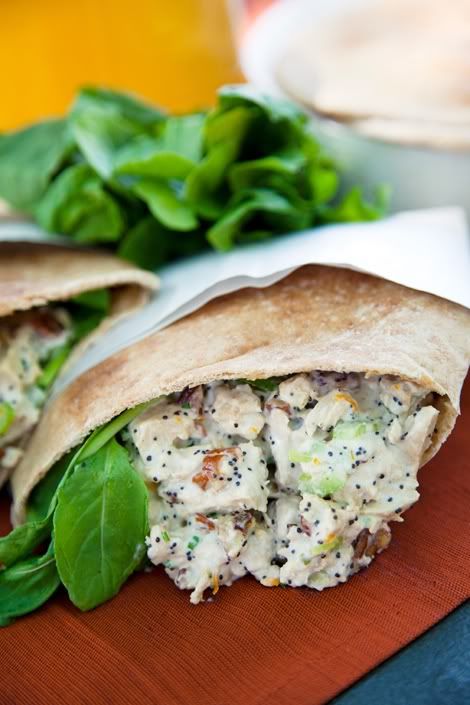 Taken from
Food Network Magazine
's
May 2010 issue, this chicken salad recipe with a gourmet twist is easily veganized. Replace the chicken with Gardein and use Vegenaise instead of mayo. You'll have the perfect picnic sandwiches; and no one will even guess that they're pure vegetarian.
Please note: This recipe makes 4-8 servings — enough for a picnic — using less than four packages of Gardein will greatly change the ratio of chick'n to other ingredients in a not-so-good way. Gardein refrigerated Chick'n Filets should be used, not the frozen strips.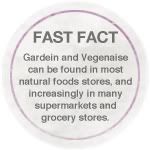 1 large orange
1 tablespoon Dijon mustard
1 stalk celery, chopped
1/2 cup chopped pecans
1/4 cup chopped fresh chives
1 1/2 tablespoons poppy seeds
Kosher salt
Freshly ground pepper
Arugula, for serving
4 whole-wheat pita pockets, halved
Prepare the Gardein:
Remove the chick'n filets from their packaging. Gently pat them dry with a paper towel. Cut into bite-sized chunks and set aside.
Mix the dressing:
Grate zest from half of the orange into a large bowl; juice the whole orange into the bowl. Stir in the Vegenaise, Dijon, celery, pecans, chives, poppy seeds, 1/2 teaspoon kosher salt, and pepper to taste.
To serve:
Add the Gardein chunks to the bowl and toss with the dressing. Stuff some arugula and some of the chick'n salad into each pita pocket. Serve immediately.
Photos: Scott Gordon Bleicher