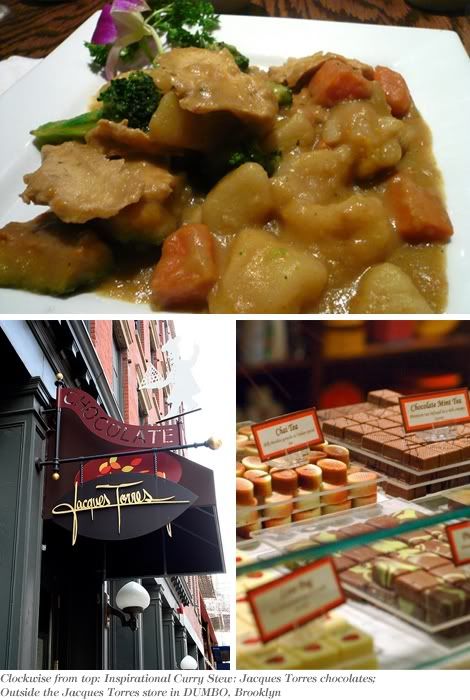 As week one of The Kitch's vacay
comes to a close, I can only say that while I'm sorry to have seen this week pass by so quickly, I'm mostly just stoked for the second week off that lies ahead.
It's been a time of change and I'm looking forward to taking the blog in new and exciting directions. The first week of vacation has been a blast. There's not much better than eating out when you're on any kind of vacation, and I've been doing plenty of that in the name of staying inspired. This past Saturday I had a pure vegetarian Malaysian Curry Stew that will hopefully be making an appearance here in the recipes section when I return to The Kitch full-time; and earlier in the week I spotted some lovely chocolates at Jacques Torres in DUMBO, Brooklyn that are begging to be veganized.
Beyond plenty of new recipes, I'll be sharing some behind-the-scenes peeks at prop-shopping and progress being made on my growing test kitchen to develop and shoot recipes in, plus some thoughtful answers on safe ways to incorporate soy into a vegan diet from an instructor at the Natural Gourmet Institute. And? Some new adventures with a Recipe Trial Club made up of myself, and fellow NYC foodies and pure veg friends
Dawne Eng
,
Matt Hagedorn
and
Terry Hope Romero
. Last week we met for drinks at Otto's Shrunken Head to make our first plans over an order of awesome vegan grub, and then trekked to Stogo for a late-night gourmet non-dairy ice cream treat.
The Kitch will return full-time on August 21. I hope you'll come back and join me for more mouthwatering pure vegetarian recipes and all-new Culinary Adventures in my Unconventional Kitchen!