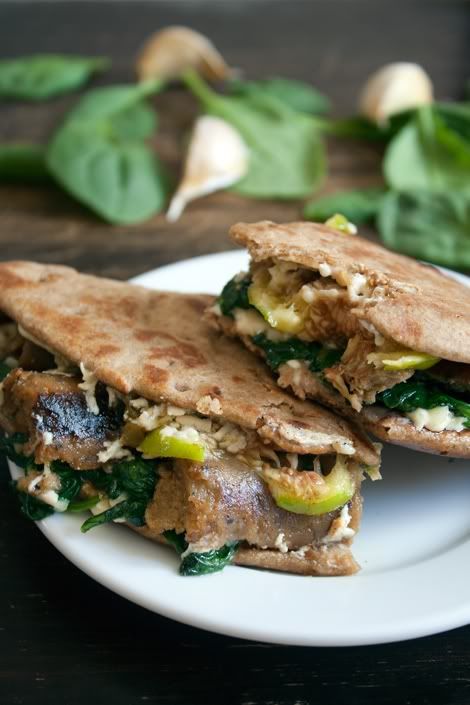 Welcome back to The Kitch!
I hope everyone had a wonderful long Labor Day weekend and ate lots of amazing food (and hopefully at least some of it was pure vegetarian).
On Sunday I made a lazy afternoon sandwich that turned out to be quite possibly the best sandwich I've ever eaten (so this is why you need to make it, too). It came together the same way easy dishes like this usually come together for me; inspired by a couple of figs I'd purchased the day before at the Farmer's Market, I wandered around the grocery store until I found a grouping of ingredients I figured would work well with them.
I've used whole wheat pocketless pitas as the vehicle for this pure veg sausage-y, fig-y goodness but to be honest, that was only because I had half a package I was trying to use up. You can use any type of rustic bread you choose; you'll just use 2 slices per sandwich, spread the jam on one slice and place it jam side down on top of the other when cooking, rather than folding the bread over like I did with the pitas. And don't worry if you can't find fresh figs at your local market; the panini will still taste wonderful made with just the fig jam.
(Lacto Ovo Option: Use Brie or Fontina cheese instead of Daiya)
SMOKED APPLE SAGE VEGGIE SAUSAGE AND FIG PANINI WITH SAUTEED SPINACH AND GARLIC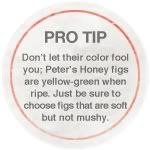 2 whole wheat pocketless pitas
2 Field Roast Grain Meat Co. Smoked Apple Sage sausages (from a package of 4)
2 cups fresh baby spinach
2 large cloves of garlic, finely chopped
Kosher salt and freshly ground black pepper to taste
1 fresh ripe fig, sliced thin (I used "Peter's Honey" variety)
1/2 cup Daiya Mozzeralla Style Shreds
1 tablespoon fig jam
Vegetable oil, for cooking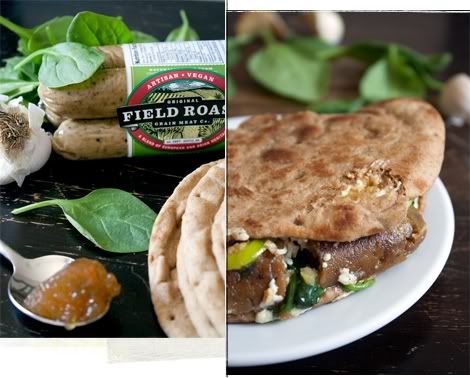 Prepare the spinach and garlic:
Heat vegetable oil in a medium sized pan over medium-low heat. Add the garlic and cook for a minute, then add the spinach and cook until the spinach has just wilted, about 3 - 5 minutes. Season with salt and pepper to taste. Remove the spinach and garlic to a small bowl and set aside.
Cook the sausages:
Remove the veggie sausages from their casings. Add the sausages to the same pan you just cooked the spinach in (you can add a little more oil to the pan if it's too dry). Cook until golden brown on all sides and heated through, about 1 - 2 minutes on each side. Remove from pan and set aside on a small plate or cutting board.
Make the panini*:
Place one pocketless pita in the pan, top side down. Place 1/2 of the sauteed spinach and garlic on one side (approximately half) of the round pita. Cut the sausages in half and slice each half in half again, lengthwise. Add one full sliced sausage (4 long slices) on top of the spinach. Top with 2 to 3 fresh fig slices and sprinkle with about 1/4 cup of Daiya. On the other side of the pita, spread 1/2 tablespoon of fig jam. Fold the jam side of the pita onto the sausage side, pressing it down with a spatula. Cook until the Daiya has melted, about 4 minutes, flipping entire panini over to the other side halfway through (2 minutes on each side).
Remove the sandwich to a plate and repeat the process again for the second pita and any additional panini you're making. Slice cooked panini in half and serve immediately.
*
Be careful not to overstuff your panini, otherwise you'll have a hard time folding the pita over and it won't hold together very well.
And that's all there is to to this simple, unique and tasty sandwich. The recipe is one I've made up entirely on my own (below are some of my initial notes); I hope you enjoy it as much as I do. I've only tested the recipe three times so if you give it a try and have any problems, please let me know! Feedback is always great when even an easy recipe is young, and it's helpful to know if anyone runs into issues I hadn't experienced when testing it.