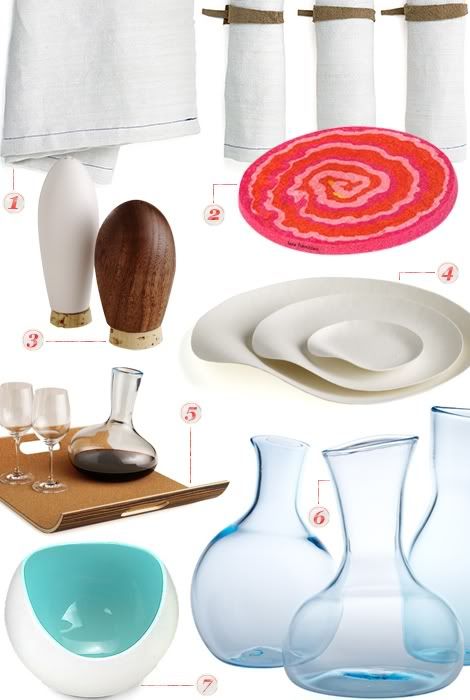 There's a folder
all the way in the right corner at the bottom of my Mac's desktop called "Love!". This is the folder that holds inspirational things I find online; from graphic design inspiration, to photography, to beautifully designed products. Last night I was browsing
Branch
— an online store based in San Francisco that offers a variety of sustainably designed and produced products — looking for inspiration to add to my Love! folder, and wound up with inspiration for this week's Green Things, too. I fell in Love! with each of the products listed below. They are all stunning and sustainable, and can be purchased online through Branch.
1.
Handwoven organically-grown
hemp and cotton napkins
that were grown on Romanian family farms; by Transylvanian Images.
2.
Handmade virgin wool felt
Table Slice
trivet; by ZigZign
5.
Handmade
cork tray
; designed and developed for Branch by Urbana Design
6.
Made-to-order handmade recycled glass
Off Pitcher
; by Esque
7.
Low-fire, ceramic handmade
Spot Bowls
; by Perch!