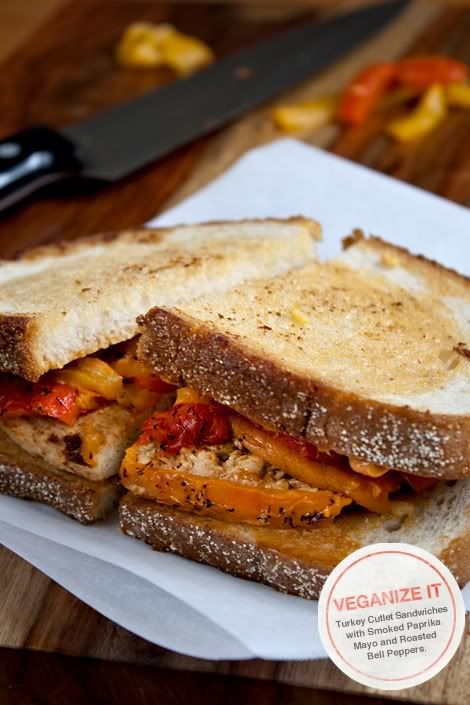 I was paging through
the September issue of
Bon Appetit
when I came across the recipe for this simple sandwich. Smoked paprika has an amazing flavor, and using it in a mayo that gets slathered on the cutlets before cooking was a stroke of genius I may never have otherwise considered — I needed to try it.
To veganize this recipe, I've used Gardein Chick'n Scallopini Cutlets in place of turkey, and Vegenaise instead of mayonnaise. I personally prefer the taste of Vegenaise to mayo, and I definitely encourage all of my friends and family to give it a try whenever I can.
Smoked paprika is not the same as paprika. The smoking of the peppers prior to grinding provides an extra depth of flavor. It can be found at most supermarkets and specialty food stores but if you can't find smoked paprika, regular paprika will work as well.
VEGANIZE IT: GARDEIN CHICK'N CUTLET SANDWICHES WITH SMOKED PAPRIKA MAYO AND ROASTED BELL PEPPERS
2/3 cup Vegenaise
2 teaspoons smoked paprika
1 package frozen Gardein Chick'n Scallopini cutlets
4 slices of rustic bread, toasted
1 12 oz jars tricolor roasted bell pepper strips, drained
Kosher salt
Freshly ground black pepper
Prepare the Smoked Paprika Mayo:
Mix Vegenaise and paprika together in a small bowl.
Cook the Gardein:
Remove all four frozen Gardein cutlets from the package. Spread 2 tablespoon paprika mayo over both sides of cutlets (each side will be spread with 1 tablespoon of mayo). Sprinkle with kosher salt and freshly ground black pepper.
Heat a heavy large nonstick skillet over medium-high heat. Add Gardein cutlets to the skillet and cook cutlets until browned and just warmed through, about 2 - 3 minutes per side.
Prepare the sandwiches:
Spread mayo over the inside side of each of the toasted bread halves. Place one two cutlets on each bottom half, then top with 1/4 of peppers. Cover with top halves of bread. Slice sandwiches in half and serve.