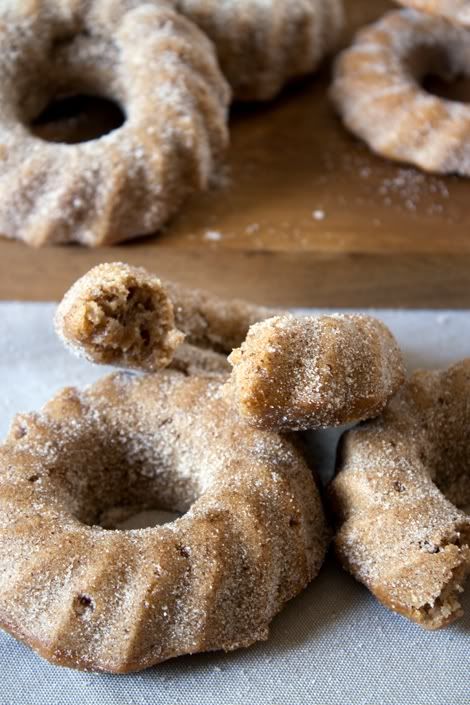 Seasoned pros
may take years to develop the perfect vegan doughnuts. Today I learned the hard way why that is: it's not easy.
I'm hosting a Halloween/Fall brunch get-together tomorrow, and figured pure veg Apple Cider Doughnuts would be the perfect treat to serve. I decided to give my doughnuts a test-run today, and while I consider myself a pro when it comes to baking cakes and mini cakes for my Sweeties brand, I'm entirely not a pro at baking doughnuts — this was my first time, even!
The baked pure veg doughnuts came out alright. They were incredibly tasty but I can't say I was crazy about the texture. What I did? I wound up cheating, and fried the little guys for a few seconds in some hot oil after they came out of the oven. Then I rolled them in cinnamon and sugar. I'll share the recipe next week for those who might want to give it a whirl.
Also coming up next week: A mini behind-the-scenes look at the last Recipe Trail Club meeting. I was the RTC host this time around, and had a chance to get some great feedback on a new seasonal Sweeties cupcake flavor. I'll share some more about that with you, and the recipe for Terry Hope Romero's awesome Caesar Salad with homemade croutons and dressing. I'll admit it was sort of funny to see her in my kitchen preparing the salad for us right under the cabinet book shelf that holds copies of her cookbooks Veganomicon, Vegan Cupcakes Take Over the World and Viva Vegan!
And last but definitely not least, a bonus recipe will be coming up this week for Fettuccine Alfredo, made with Tofu Ricotta Cream Sauce — totally delicious, and it couldn't be easier to whip up for a great weeknight dinner.
Have a great weekend, and I'll catch up with you next week.