Today seemed like
the perfect day for a fall sundae and some spiced apple cider — the air is crisp here in NYC but the sun is adding just the right amount of warmth. What's that in the bottom of the dish? Oh, it's only chocolate cake (with pecans). Maple, ginger, pecans and chocolate were the ingredients I was working with for this one; and when I finally got to taste the result of my hard work, all I could say was, "Oh, my, God." Hang on if you can because the recipe for both the sundae and the cake will be coming up next week.
Also coming up next week is a recipe for a pasta dish inspired by the October issue of Bon Appetit. I roasted eggplant, zucchini, onions and garlic that had been tossed with an olive oil-cayenne mixture and seasoned with salt and pepper. The roasted veggies were eventually added to cooked tortiglioni pasta. And let me just say, the wonderful aroma of the vegetables as they were roasting is reason enough to make this recipe.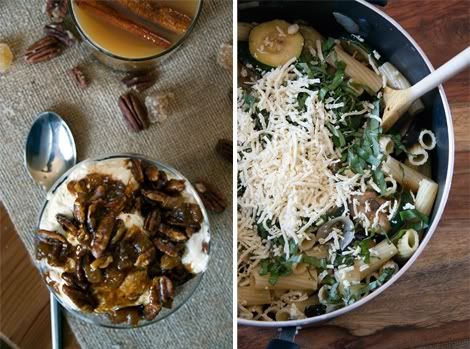 I sort of have to pinch myself, but all of this food is pure vegetarian, AKA vegan. Even the cheese in the pasta is pure veg (it's Daiya but it totally looks like dairy cheese in that photo). I'm calling both of these dishes "sneaky vegan" because I could serve them to anyone without ever having to say a word about their vegan-ness and no one would be the wiser.
If the best part of cooking and baking is devouring the sneaky-vegan final result, the worst part is what's waiting for me in the KLB test kitchen right now — the dishes. Have a great weekend, and I'll catch up with you next week!