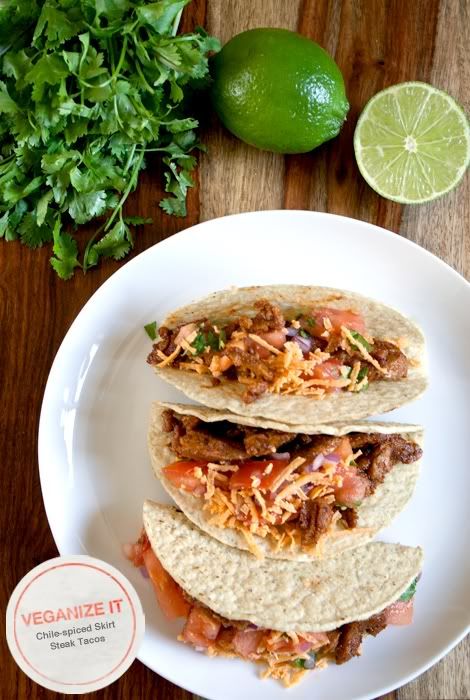 When I posted
the behind-the-scenes look on Saturday, I didn't expect to receive so many messages requesting the recipe for these tacos taken from
Food & Wine
magazine. I can honestly say that Veganizing them with seitan didn't do a thing to detract from their deliciousness. Seitan has a meaty bite, and marinating it in spices made it fit right in, in this fast, easy recipe.
What exactly is seitan? Seitan is gluten — the protein that's left after the starch is removed from wheat. Plain seitan takes on the flavor of whatever you cook it in, and it's really high in protein; perfect for a pure veg meat substitute, especially for those transitioning into a veg or pure veg diet.


CHILE-SPICED SEITAN TACOS WITH PICO DE GALLO
2 teaspoons sweet paprika
1 1/2 teaspoons chile powder
1 teaspoon garlic powder
1 teaspoon onion powder
1 teaspoon light brown sugar
1/4 teaspoon ground cumin
1/4 teaspoon ground coriander
1 teaspoon salt
1/4 teaspoon freshly ground pepper
1/4 cup plus 2 tablespoons fresh lime juice
1 tablespoon vegetable oil
2 packages seitan strips, shredded (I used West Soy brand)
12 white corn taco shells
Pico de Gallo (recipe follows)
Daiya Mozzerella Style Shreds, for garnish
2 medium tomatoes, coarsely chopped
1/2 cup finely chopped red onion
2 tablespoons coarsely chopped cilantro leaves
1 tablespoon freshly squeezed lime juice
Salt and freshly ground black pepper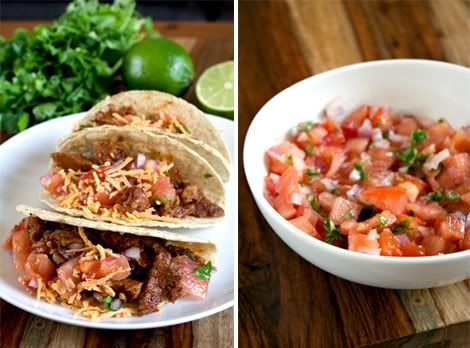 Marinate the seitan:
In a large resealable plastic bag, combine the paprika, chile powder, garlic powder, onion powder, sugar, cumin, coriander, salt and pepper. Add the lime juice and oil and shake the bag to blend. Add the seitan and seal the bag. Let the seitan stand at room temperature for 2 hours.
Prepare the Pico de Gallo:
In a medium bowl, combine the tomatoes with the onion, cilantro and lime juice and season with salt and pepper.
Cook the seitan:
Preheat a large oiled pan. Cook the seitan over moderately high heat, turning, until lightly charred on the outside and warmed through, about 5-10 minutes. Turn off the heat and let the seitan rest for a few minutes. Serve in taco shells with Pico de Gallo and a light sprinkling of Daiya Mozzarella Style Shreds.