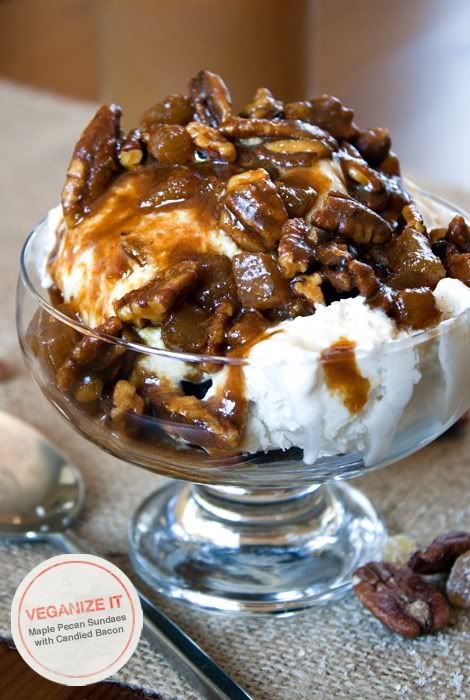 When I opened the
October 2010 issue of
Bon Appetit
and saw a few spreads devoted entirely to desserts made using maple, I almost died. And when I saw the recipe for this ice cream sundae, I knew I needed to make a pure vegetarian version and set it over some leftover chocolate pecan cake, right away.
I considered making candied tempeh bacon, but fearful of the results and wanting to be sure to maintain great flavor and keep this dish "sneaky vegan", I decided to replace the candied bacon with dried ginger in raw sugar. The result was pretty awesome!
I also added a teaspoon of molasses to the sauce to thicken it and add more depth of flavor, which you can do, too although it's totally unnecessary.
These sundaes are so simple to make and are great to enjoy on a sunny fall day with some spiced apple cider.
MAPLE PECAN SUNDAES WITH DRIED GINGER OVER CHOCOLATE PECAN CAKE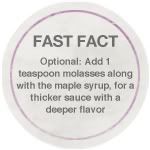 3/4 cup pure maple syrup (preferably grade B)
2 cinnamon sticks, broken in half
1 tablespoon fresh lemon juice
1/4 cup dried ginger pieces, chopped into small pieces
1/2 cup pecan halves, toasted
Your favorite non-dairy vanilla ice cream (I use Purely Decadent made with coconut milk)
1 slice chocolate pecan cake (optional, recipe follows)
Prepare the maple pecan sauce:
Combine maple syrup and cinnamon sticks in a deep medium saucepan and bring to a boil over medium-high heat. Reduce heat to medium and simmer until sauce is thickened and reduced to 1/2 to 2/3 cup, about 5 minutes. Remove cinnamon sticks. Mix lemon juice and ginger into sauce.
Stir pecans into maple sauce.
For the chocolate pecan cake:
Simply use the recipe for
Dark Chocolate Espresso Cupcakes
, reducing the espresso to 1 tablespoon and folding 1/4 cup of pecans into the batter before transferring to a 9 x 13 baking dish. Bake for 25 - 35 minutes or until a toothpick inserted into the center comes out clean.
Make the sundaes: Place a slice of chocolate pecan cake into a dessert dish. Scoop non-dairy ice cream over the cake. Spoon sauce over and serve.