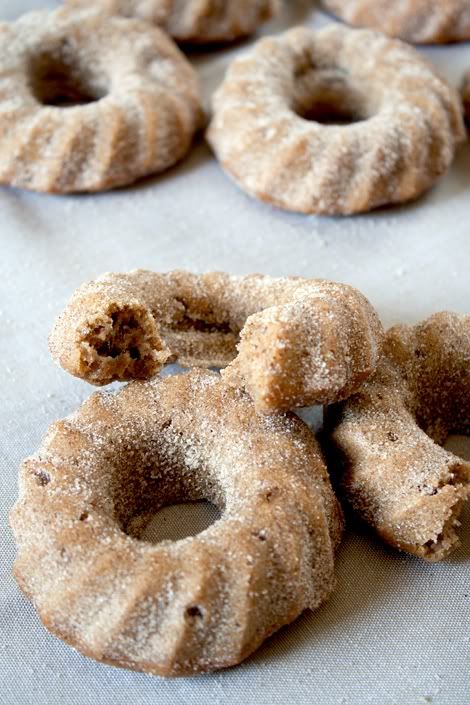 I hope everyone
had a fun Halloween on Sunday! At
KLB
headquarters I hosted a small brunch get-together, and these little doughnuts were the stars.
The recipe itself was adapted from Vegetarian Times and the doughnuts were meant to be baked, not fried. But I wasn't exactly pleased with the recipe, and I'd like to work on it more to perfect it for baking (they were very soft so I cheated and fried them after they came out of the oven, for a crispier texture). In the meantime, I'll share with you exactly what I did to produce my Halloween brunch doughnuts so that you can give them a try.
BAKED (AND THEN FRIED) APPLE CIDER DOUGHNUTS ROLLED IN CINNAMON AND SUGAR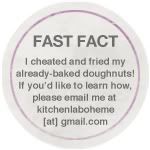 1 1/4 cups all-purpose flour
1/2 cup sugar
1 1/2 teaspoons baking powder
1/2 teaspoon ground cinnamon, plus 2 - 3 tablespoons for cinnamon-sugar mixture
1/4 teaspoon salt
1/8 teaspoon ground cloves
1 cup apple cider
2 1/2 tablespoons pre-ground flaxseeds
3 tablespoons water
1/3 cup soy milk
5 tablespoons apple butter
4 tablespoons Earth Balance Buttery Spread (recommended: Soy Free)
1/2 cup sugar
Please e-mail me (kitchenlaboheme [at] gmail.com) if you would like information on how I fried my already-baked doughnuts at home in a deep, heavy skillet. Frying is not really the healthiest option and I definitely don't recommend it — I did it just as a cheat because I wanted my doughnuts to have the
perfect
texture for mixed omni/veg company. It's also very important to follow directions carefully when you're dealing with hot oil, so you don't wind up starting a fire in your kitchen!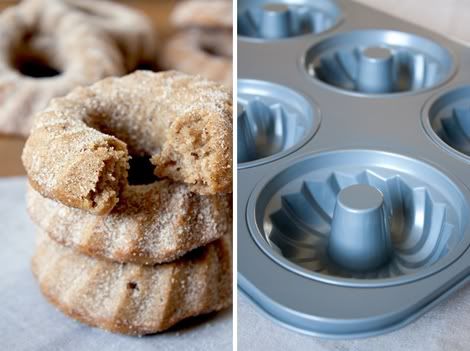 To start:
Preheat the oven to 350°F. Coat a doughnut pan with cooking spray (pictured above, right: mine are fluted but doughnut pans usually come with flat circular molds; you can find them in any store that sells baking supplies).
Whisk together the flax seeds and water in a small bowl until the mixture becomes thick and has the consistency of egg. Set aside.
Fill a small bowl with 1/2 cup sugar. Mix in 2 - 3 tablespoons of cinnamon. Set aside.
Prepare the batter:
Whisk together flour, sugar, baking powder, cinnamon, nutmeg, salt, and cloves in a large bowl.
Bring cider to a boil in a small saucepan. Boil for 10 minutes, or until liquid is reduced to 1/3 cup; remove from heat. Stir flax/water mixture into the cider reduction. Add soy milk, apple butter, and Earth Balance, stirring until Earth Balance is melted. Allow to cool, then stir the cider mixture into the flour mixture.
Fill each doughnut mold 3/4 of the way full with batter. Bake for 12 minutes, or until a toothpick inserted into a doughnut comes out clean. Roll hot doughnuts in cinnamon and sugar mixture. Allow to cool, and serve.
PS:
These doughnuts were even great reheated in the microwave the next day. I warmed them and rolled them in cinnamon and sugar again.