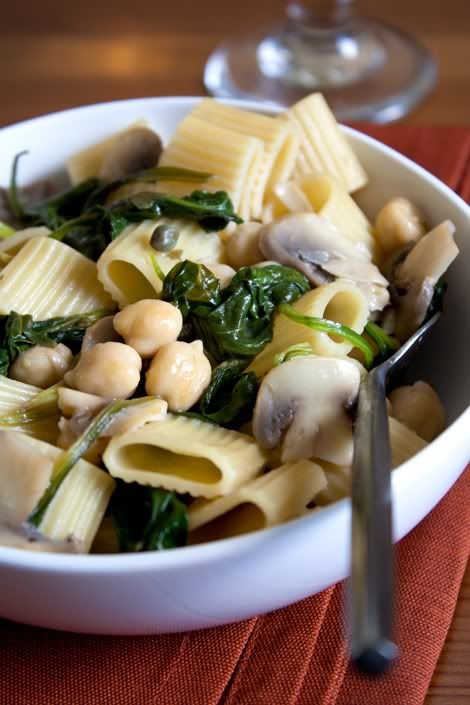 I get this a lot
, and I'm sure those of you who are also full-time Pure Vegetarians and Vegans do, too: "What do you eat?" But I especially get it around Thanksgiving — because, Turkey Day.
So. No, I don't eat Tofurky roasts and it is my one great hope that no one associate those un-tasty Tofurky bricks with Vegetarian Thanksgiving ever again. I'm a little late on the main dish planning this year, and though I seriously considered making an amazing Butternut Squash and Mushroom Lasagna with Tofu Ricotta to replace my helping of Turkey, I settled on this simple and delicious, hearty pasta dish.
I'll be serving my unconventional Thanksgiving main dish along with Sweet Corn Muffins (you can find the recipe
here
), Mashed Sweet Potatoes (the recipe for this super side dish will be coming up next week on
The Kitch)
, cornbread stuffing with Mushroom gravy, cranberry sauce, and Spiced Pumpkin Sweeties with Maple Bourbon Buttercream Frosting for dessert.
If you're looking for a vegetarian main option to put on your Thanksgiving table this year, my Mezzi Rigatoni with Mushrooms, Spinach, Garbanzo Beans and Lemon Caper Sauce just might do the trick.
MEZZI RIGATONI WITH MUSHROOMS, SPINACH, GARBANZO BEANS AND LEMON CAPER SAUCE
For the Lemon Caper Sauce
4 tablespoons Earth Balance Buttery Spread
3 teaspoons all purpose flour
1 cup vegetable broth
1/2 cup white wine
4 tablespoons freshly squeezed lemon juice
4 teaspoons capers
1/2 teaspoon white pepper
1 lb mezzi rigatoni pasta
1 tablespoon extra virgin olive oil
1 garlic clove, minced
1 cup button or crimini mushrooms, sliced
2 cups fresh spinach
1 15 ounce can of garbanzo beans, drained and rinsed
Kosher salt and freshly ground black pepper to taste
Cook the pasta:
In a large stockpot, bring water to a boil. Salt with 2 to 3 tablespoons kosher salt. Add pasta and bring to a boil again. Cook for 10 minutes and drain, reserving about a cup of the pasta cooking water. Return drained pasta to stockpot and set aside.
Prepare the Lemon Caper Sauce:
Melt Earth Balance in a small saucepan over low heat. Add flour and stir to incorporate. Pour vegetable broth into flour mixture and continue stirring for 1 minute. Add wine, lemon juice, capers and pepper. Continue to stir and cook until sauce thickens, about 3-5 minutes. Remove from burner and set aside.
Make the mushroom, spinach and garbanzo bean mixture:
Heat olive oil in a skillet over medium heat and add garlic. Then add chopped mushrooms and a pinch of kosher salt, and sweat out the moisture. Add the Lemon Caper Sauce and bring to a boil, then cover and simmer over medium heat for 3 minutes. Add garbanzo beans and spinach, and cook until spinach is wilted. Add salt and pepper to taste.
Pour the entire mushroom spinach and garbanzo bean mixture over the cooked pasta in the stockpot. Toss until the pasta is fully coated, adding a little bit of reserved pasta water if sauce is too thick.
Plate and serve immediately.