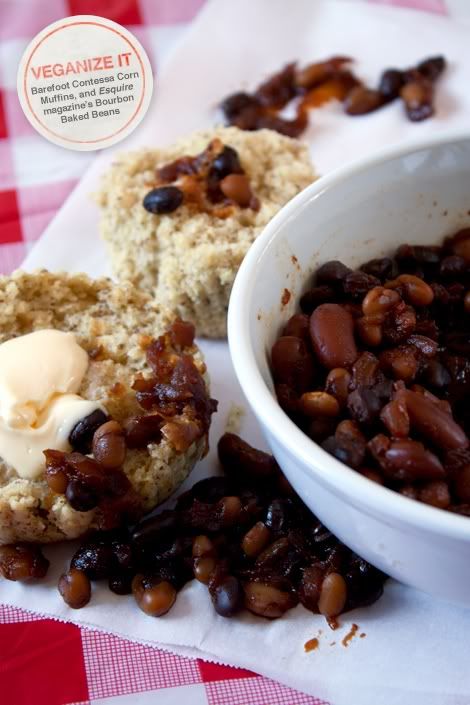 I'll be honest:
I was going to post these recipes for Sweet Corn Muffins and Bourbon Baked Beans separately. But since they really do go together, I changed my mind and decided to post both recipes at once so you can make the now-official
KLB
Man Food as a meal
today
if you'd like.
The corn muffins are a veganized Barefoot Contessa recipe, and the Baked Beans were taken from an old issue of Esquire. Both turned out entirely amazing — especially the corn muffins. Once again, I've used the flax method to replace the eggs in the muffins to make it easy on myself, since I have a bulk of flax seeds in my kitchen waiting to be used. You can see the flax seeds in the finished muffins but you definitely can't taste them at all, I promise. The muffins are so fabulous, I'm making them as a new addition to my family's Thanksgiving meal this year.
1 1/2 cups all-purpose flour
1/2 cup sugar
1/2 cup medium cornmeal
1 tablespoon baking powder
3/4 teaspoon kosher salt
3/4 cup almond milk
1/2 cup Earth Balance Natural Buttery Spread, melted and cooled
2 1/2 tablespoons pre-ground flax seeds
3 tablespoons water
To start:
Preheat the oven to 350 degrees. Line 12 regular muffin cups (or 6 full-size/jumbo ones) with paper liners. In a small bowl, whip together the flax seeds and water — you know the drill.
Prepare the batter:
In a large bowl, mix the flour, sugar, cornmeal, baking powder, and salt. In a separate bowl, combine the milk, melted Earth Balance, and flax mixture. Pour the wet ingredients into the dry ones and stir until they are just blended. Spoon the batter into the paper liners, filling each one equally until all batter is gone from the bowl.
Bake for 30 minutes, until the tops are crisp and a toothpick comes out clean. Cool slightly and remove from the pan.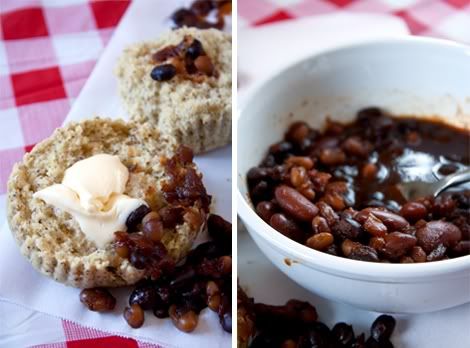 1 15 oz. can of navy beans
1 15 oz. can of red kidney beans
1 15 oz. can of black beans
3 cups water
2 Tbl. molasses
2 Tbl. tomato paste
1 tsp. dry mustard
1/2 cup chili sauce
1/2 cup bourbon
1/2 cup strong coffee
1 cup fresh pineapple, chopped to a pulp
1 yellow onion, minced
1 cup brown sugar
Kosher salt to taste
Freshly ground black pepper to taste
Pinch red pepper flakes
Prepare the mixture and cook the beans:
In an eight-quart pot, cook onions and sweat until translucent. Add tomato paste, stir and cook for one minute. Add the remaining ingredients and beans and cook over low heat for 1 hour. You may have to add water to maintain the consistency. If beans are still too wet after the allotted cooking time, then raise heat to medium and simmer until desired consistency has been reached.