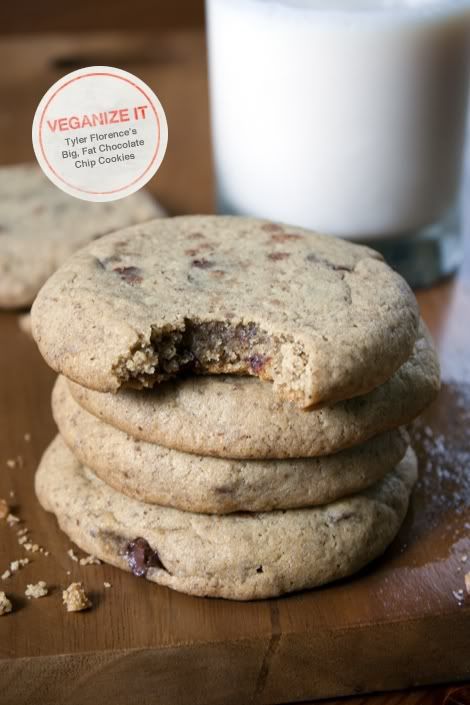 On a whim I sort of told myself
that it was time to start getting some practice in for Christmas Cookie Season. Because Thanksgiving is almost upon us and that means Christmas is soon to follow, was my thinking. That, and I wasn't really feeling up to the Vegan Thanksgiving Menu post you'd expect to see right around this time.
So. Among the easiest of all Christmas Cookies? The regular old chocolate chip ones. But just because they're a staple doesn't mean they don't have to taste better than regular. I've been trying different veganized versions of chocolate chip cookies and I hit on a great one with a vegan version of Tyler Florence's Big Fat Chocolate Chip Cookies.
They're big, fat, bursting with chocolate chips, crispy on the outside and soft and chewy on the inside. I've used ground flax seeds whipped with water as the egg replacer for two eggs because I think the earthy, granola taste from the flax works well with cookies like these. You can experiment with other egg replacers if you'd like.
BIG, FAT CHOCOLATE CHIP COOKIES
2 1/2 cups all-purpose flour
1 teaspoon baking soda
1 teaspoon salt
1 cup Earth balance Natural Buttery Spread, at room temperature (recommended: Soy Free)
1/2 cup white sugar
3/4 cup packed light brown sugar
1 teaspoon pure vanilla extract
5 tablespoons pre-ground flax seeds
6 tablespoons water
1 cup semi-sweet chocolate chips (recommended: Ghirardelli)
To start:
Preheat the oven to 350° F.
Line 2 cookie sheets with parchment paper. Sift together the flour, baking soda, and salt into a medium bowl and set aside. Beat together the flax seeds and water in a small bowl using a whisk or a fork until it takes on the texture of egg whites.
Cream the butter and sugar:
Place the Earth Balance, sugar, and brown sugar in a large bowl; cream together with a hand mixer on medium speed until light and fluffy. Scrape down the sides of the bowl with a rubber spatula. Beat in the vanilla and flax/water mixture. Gradually add the dry ingredients to the creamed mixture and continue to mix until a smooth batter forms. Turn off the mixer and fold in the chocolate chunks using the spatula.
Prepare the cookies to bake:
To form the cookies, scoop about 1/4 cup of cookie dough into your hands and roll it around into a ball; place them about 3-inches apart onto the prepared cookie sheets; you should get about 4 (maybe 6) cookies on each pan. Press down the tops of the dough slightly and bake until the cookies are light brown, 12 minutes for chewy cookies, or about 15 minutes for crispy cookies.
Allow the cookies to cool on the baking sheets for 5 minutes before transferring to a wire rack to cool completely. Repeat with remaining dough/cookie sheets.