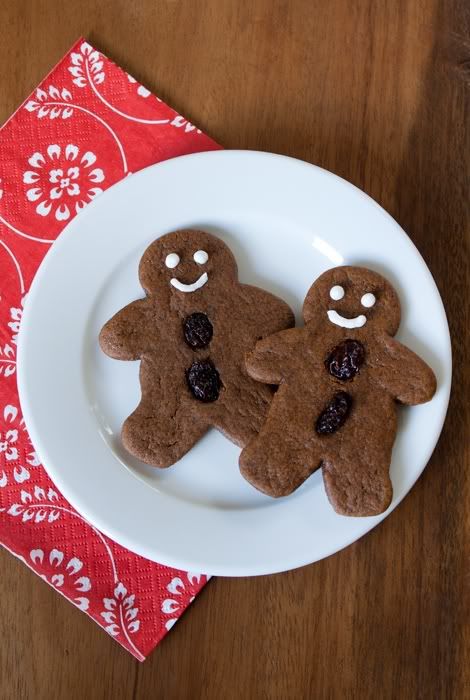 Run, run as fast as you can...
Gingerbread Men are a winter Holiday staple. These perfect pure veg versions of the tasty treats are as fun to make as they are to eat. I had such a great time baking and decorating them this past weekend! I've used raisin buttons and simple, store-bought decorating icing for their happy little faces, but you can get creative and adorn them however you see fit. Invite some friends over or gather your family and have a Gingerbread Man decorating party. If you'd like to make your own frosting, the recipe for Confectioners Frosting follows.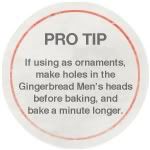 1/3 cup safflower oil
3/4 cup sugar
1/4 cup molasses
1/4 cup plain, unsweetened almond milk
2 cups all-purpose flour
1/2 teaspoon baking soda
1/2 teaspoon baking powder
1/2 teaspoon kosher salt
1 1/2 teaspoons ground ginger
1/2 teaspoon ground nutmeg
1/2 teaspoon cloves
1/2 teaspoon cinnamon
To start:
Preheat oven to 350°F. Lightly spray 2 cookie sheets with nonstick cooking spray or line with parchment paper.
Prepare the dough:
In a large bowl whisk together oil and sugar for about 3 minutes. Add molasses and soymilk and blend (the oil may stay slightly separated, and that's OK).
Sift in the flour, baking soda, baking powder salt and spices. Mix until a stiff dough is formed. Flatten the dough slightly, wrap in plastic wrap and chill for an hour (the dough can be made and chilled for up to 3 days in advance). If you chill longer than an hour remember to let the dough sit for 10 minutes to soften a bit before rolling it out.
Make the cookies:
Roll the dough out on a lightly floured surface (I like to flour a sheet of parchment and roll them out on that) to a little less than 1/4 inch thick. Cut out your shapes with your cookie cutters and use a thin spatula to gently place on cookie sheets — this will help keep their cute little shape. If using raisins, place them on the cookies before putting them in the oven. Bake for 8 minutes.
Remove from oven and let cookies cool for 2 minutes on the baking sheet then move to a cooling rack. Wait until they are completely cool before icing.
2 cups confectioners (powdered) sugar, sifted
1/2 cup Earth balance Natural Buttery Spread, room temperature
1 teaspoon pure vanilla extract
1 1/2 tablespoons almond milk or soy creamer
Assorted food colors, if desired
Directions:
With a hand mixer, cream the Earth Balance until smooth and well blended. Add the vanilla extract. With the mixer on low speed, gradually beat in the sugar. Scrape down the sides of the bowl and beater. Add the almond milk and beat on high speed until frosting is light and fluffy (about 3-4 minutes). Add a little more almond milk if too dry. Tint frosting with food coloring if desired. Place the frosting in a pastry bag fitted with a decorative tip and decorate the gingerbread men as you please.
Recipe spliced together from The PPK and Joy of Baking