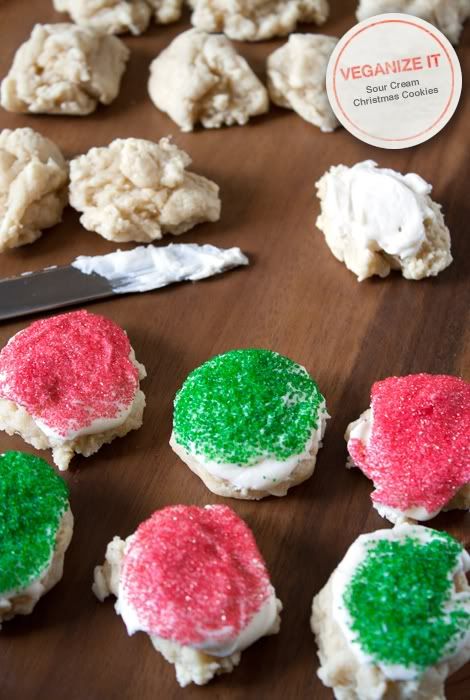 It just wouldn't be
Christmas without my family's Sour Cream cookies, a happy tradition for us every year. Only,
these
Sour Cream cookies are a bit different — they're made without butter, eggs or sour cream! I decided to take the family recipe and veganize it, and the results were astonishing. I was so happy, I wanted to share this special version of my family's Sour Cream Christmas Cookies with you.
"SOUR CREAM" CHRISTMAS COOKIES
1/2 cup Earth Balance Natural Buttery Spread
1 cup granulated sugar
1/2 cup Tofutti Sour Supreme vegan sour cream
2 1/2 tablespoons golden flax meal
3 tablespoons water
2 3/4 cups all-purpose flour
1/2 teaspoon baking soda
1/2 teaspoon baking powder
1 teaspoon vanilla
1/4 teaspoon salt
Confectioners Frosting (recipe follows)
Decorative colored sugar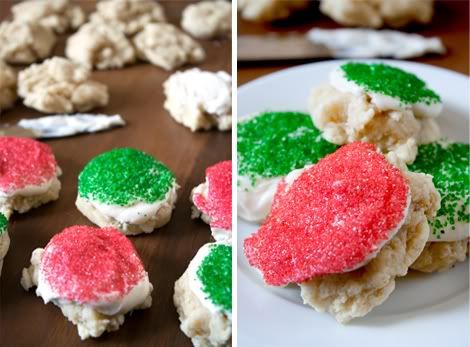 To start:
Preheat the oven to 350°F. Lightly grease a cookie sheet with nonstick cooking spray, or line with parchment. Combine the flax meal and water in a small bowl and beat with a fork or wire whisk until an egg-like consistency is reached; set aside.
Prepare the dough
: In a large bowl, cream together the Earth Balance and sugar. Add the Sour Supreme, flax meal mixture and vanilla. Stir to combine. In another large bowl, combine the flour, baking soda, baking powder and salt. Add the flour mixture to the wet ingredients mixture about a half cup at a time and stir with a wooden spoon to mix everything together well, using your hands to lightly knead toward the end if the dough becomes too stiff to mix with the spoon.
Bake the cookies:
Using a regular table spoon, spoon out clumps of batter onto the prepared cookie sheet, making 3 rows of 4 cookies. Bake for 8 to 9 minutes, being extremely careful not to over-bake (I would check them at 8 minutes and pull them out even if they seem slightly undercooked, unless they're obviously completely uncooked — in the second case, just a minute longer will do the trick).
Let the cookies cool completely. In the meantime, whip up some Confectioners Frosting (recipe follows) and when the cookies have cooled, frost them generously and dip (frosting-side down) into bowls filled with decorative sugar.
2 cups confectioners (powdered) sugar, sifted
1/2 cup Earth balance Natural Buttery Spread, room temperature
1 teaspoon pure vanilla extract
1 1/2 tablespoons almond milk or soy creamer
Assorted food colors, if desired
Directions:
With a hand mixer, cream the Earth Balance until smooth and well blended. Add the vanilla extract. With the mixer on low speed, gradually beat in the sugar. Scrape down the sides of the bowl and beater. Add the almond milk and beat on high speed until frosting is light and fluffy (about 3-4 minutes). Add a little more almond milk if too dry.