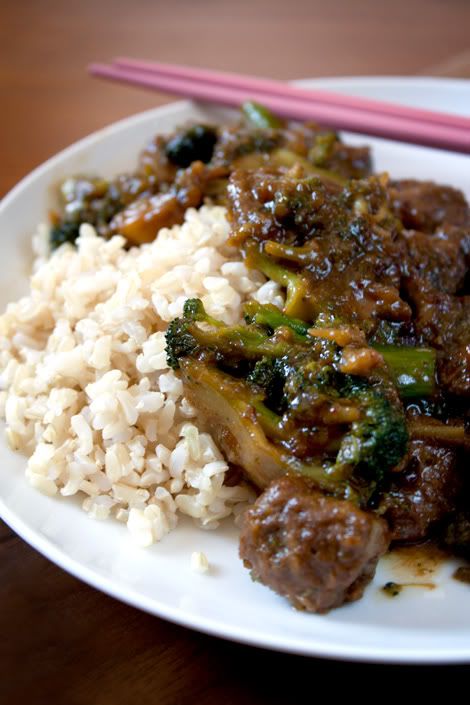 I was never a
Chinese take-out person. Instead, I opted for pizza. Or a Philly Cheesesteak. But in my pre-vegan days growing up in Philadelphia, anytime I found myself forced to be a part of a Chinese take-out order, my choice was always Beef and Broccoli. Faced with a package of frozen Gardein Beefless Tips and no desire to make stew as the back of the package suggested, last Sunday I decided to revisit those days of my past. I got out the wok and whipped up a super quick Beef and Broccoli Stir-Fry.
The thing about this stir-fry is — as it is with most stir-frys — you probably have just about everything you need to make it already in your home. It's a last-minute, easy,
tasty
meal. If you're like me and often find yourself accommodating both pure veggies and omnivores, this dish is incredibly easy to make suitable for everyone: You can make it pure vegetarian with Gardein Beefless Tips or seitan, or you can use beef. It's entirely up to you.
Before I list the Beef and Broccoli Stir-Fry ingredients and recipe, I wanted to give you all a sneak preview of some upcoming features and recipes that'll be popping up on
KLB
within the next few weeks.
Last Saturday I was lucky enough to spend a good part of the day getting to know local chef and two-time
Chopped
champion Cody Utzman a little better at his latest Greenpoint, Brooklyn neighborhood venture, Cafe Royal. Cody was nice enough to let the
KLB
crew come and photograph him for an upcoming interview. At the time we met, Cody was finishing his application to star on
Top Chef.
We wish him luck!
And I wanted to give a quick Thank You to KV for sending in a lovely eggless Banana Bread recipe to be fully veganized — I'll share the results soon. If you have a recipe of your own (or one that you've seen on TV, or found in a book or online) that you'd like to see veganized, send it to me at kitchenlaboheme [at] gmail [dot]
com. I'll take on the project of veganizing it for you, and post the final recipe on the blog.

As for the Beef and Broccoli, the recipe is below. The verdict is still out on the Beefless Tips. I used them just as they were out of the package, but would consider slicing them in half or into small strips, and I might even prefer to try seitan in this recipe next time.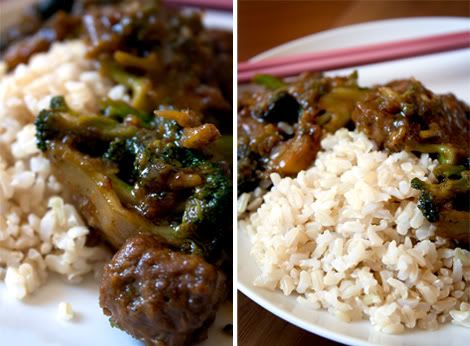 BEEF AND BROCCOLI STIR-FRY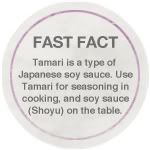 Ingredients:
3 tablespoons cornstarch, divided
1/2 cup water, plus 2 tablespoons water, divided
1/2 teaspoon garlic powder
1 package Gardein Beefless Tips
2 tablespoons vegetable oil, divided
1 package frozen broccoli florets, thawed
1/3 cup tamari
2 tablespoons brown sugar
1 teaspoon fresh, finely grated ginger
hot cooked rice (as much as you prefer)
To start:
In a small bowl, combine 2 tablespoons cornstarch, 2 tablespoons water and garlic powder. Stir until smooth. Add Beefless Tips and toss. In another small bowl, combine tamari, brown sugar, ginger and remaining cornstarch and water. Stir until smooth; set aside.
In a large skillet or wok over medium-high heat, stir-fry Beefless Tips in 1 tablespoon oil until they reach desired doneness; remove from wok, set aside in a small bowl and cover to keep warm.
Next:
Stir-fry broccoli and onion in remaining oil for 4-5 minutes. Return Beefless Tips to pan. Add the tamari mixture to the pan. Cook and stir for 2 minutes.
Serve immediately over rice.