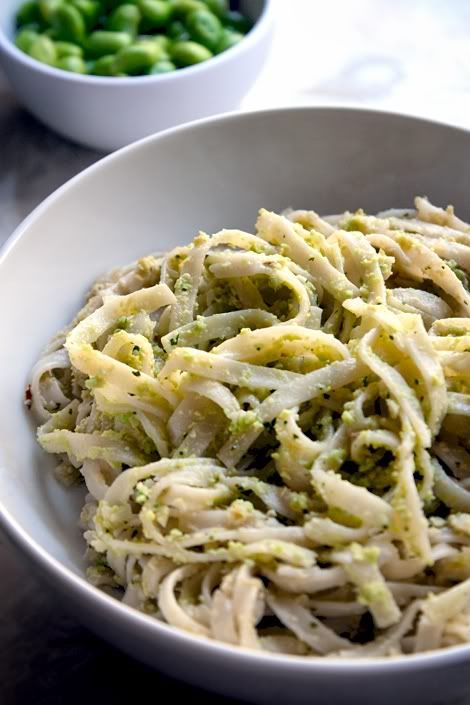 Spring has officially sprung
in NYC, which means we're up to our eyeballs in cold, miserable weather. But the spirit of spring is still in the air, so I wanted to start thinking ahead to the bright, warmer weather with a light and simple pure veg meal inspired by Eric Grower's
The Breakaway Japanese Kitchen
: Udon with Edamame, Mint and Toasted Almond Pesto. Really, it
is
just so simple and ridiculously fast to prepare. The photo doesn't show it but during seconds, I decided to garnish my helping with some lightly-salted, cooked edamame that hadn't made it into the pesto. Yum!
A side note: This recipe serves 3. If you're only making it for yourself, I recommend boiling 1/3 of the noodles and saving the remaining uncooked noodles and 2/3 of the pesto for another time, rather than making it all and trying to save the leftovers.
UDON WITH EDAMAME, MINT AND TOASTED ALMOND PESTO
8 lbs udon noodles
1 1/2 cups shelled and cooked edamame
1/4 cup vegetable oil
1/4 cup toasted almond slivers
1 teaspoon sesame oil
2 teaspoons grated fresh ginger
2 teaspoons grated fresh garlic
Zest of 1 lemon
Juice of 1 lemon
2 tablespoons each of shredded mint and parsley
2 tablespoons tamari
1 tablespoon rice vinegar
A pinch of finely ground sea salt or kosher salt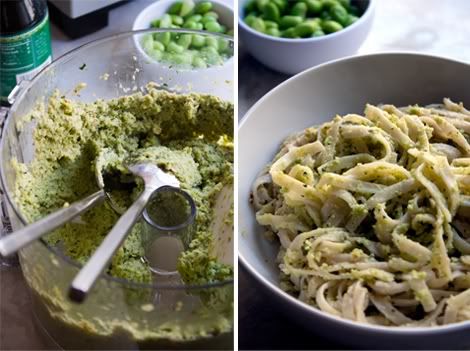 To start:
Boil udon noodles in a large pot over medium-high heat according to manufacturer's instructions, about 5 minutes.
In the meantime:
While noodles are cooking, combine all other ingredients in a food processor and blend into a fine paste, pouring oils in last.
When noodles are finished cooking, drain then return to the hot cooking pot and add pesto. Toss until noodles are completely coated.
Serve immediately in bowls and eat with chopsticks.