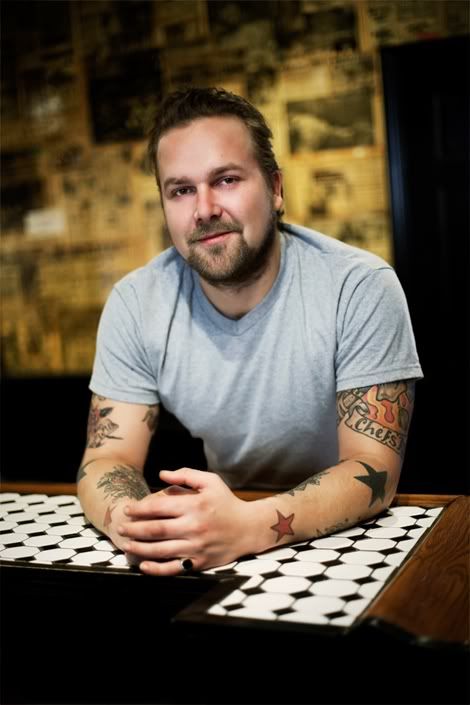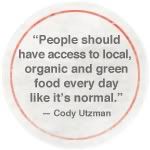 Award-winning chef and restaurateur
Brooklyn, NY
Best known
for his two-time champion status on Food Network's
Chopped
, this talented chef has opened four restaurants in his Greenpoint, Brooklyn neighborhood and is active in three of them on a daily basis. I caught up with Utzman to find out what prompted him to offer vegan options among the standard fare in each of his establishments, how important eating and sourcing food locally is, and how winning a nationally-televised cooking show (and some simple advice from your father) can help to change your life.
Kitchen La Boheme:
You currently have four restaurants — three that you're active in on a daily basis — in Greenpoint: Brooklyn Label, Papacitos, Brooklyn Standard and Cafe Royal; none are vegan, yet all include vegan options on the menu. Why did you choose to include vegan dishes?
Cody Utzman:
The vegan menu options are a result of demand. I ate this way for many years but it wasn't a lifestyle choice for me. I see a need and know how to fill it, it's that simple. Plus I love making vegans say, "OMFG!" They usually have to deal with such BS options on menus, like rice and bean tacos or steamed veggies with brown rice. I love making people happy, and there are a lot of starving vegans in Brooklyn who want to be happy when they go out to eat!
KLB:
You're very passionate about what you do. How did you get your start as a chef?
CU:
I got my first job in a restaurant when I was fired from a Gas station in Corvallis, Oregon — I was the dishwasher and a shrimp peeler at a Chinese restaurant. From there I moved on to fast food joints and eventually landed a job at a diner called Shari's. I was 17 years old and working the graveyard shift. Diners are a racket, I learned fast, and Shari's showed me that I was a natural in the kitchen.
Fast forward through culinary school, fishing boats in Alaska, hotels in Hawaii, Nicaragua, Yellowstone… Next thing I knew, I was twenty-one and I took a private chef job in Boston, MA.
I moved to NYC in 2004, and when I did, I sought out the typical jobs at high-end restaurants. The reality of these kitchens was far different from what I expected and it was quickly determined that I was totally unemployable. Five years as a private chef was looked down upon by these types of restaurants. In addition, the pay was a fraction of what I was used to. For the next two years I took random catering, film production and private chef jobs, and traveled extensively, the whole time constantly seeking a location within my neighborhood of Greenpoint, Brooklyn to open a restaurant. After six failed lease-signing attempts and multiple investors giving the green light only to pull the plug at the last minute, one finally stuck. That was Brooklyn Label, my first restaurant.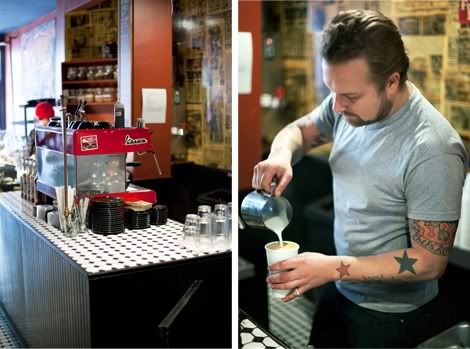 KLB:
You were the winning chef on Food Network's Chopped — twice. How has that experience affected you and your work?
CU:
Each win was $10K, so that was nice. Even though I have multiple locations I really don't make more then the average chef. The winnings where mine, and I was able to use the money to do some nice things for my family. Being on the show also connected me to a network of chefs and industry people that I was sheltered from by being exclusive to Greenpoint. I now have connections and fellow industry colleagues all operating within NYC.
I was extremely flattered by the fan base that developed from my appearances on the show, and even Facebook has allowed me to connect with people that I otherwise wouldn't have had the pleasure of getting to know. One afternoon last summer I was cashiering at the Standard; three people came in and proceeded to tell me about how they had been to each of my other locations that day in search of me. They had traveled from Mexico City, brought me gifts and wanted pictures and autographs. I was ridiculously flattered and accommodated every wish they had. The power of a nationally televised TV show is amazing.
KLB:
Which of your dishes are you most proud of?
CU:
Right now I'm most proud of my last dish I made; it was Spaghetti Alfredo that I made at 3 a.m. for my roommate and I. I took an hour to do it, blazed but focused as can be. I built the mother sauce, béchamel, and finished the dish with organic bright yellow egg yokes to thicken it up. It was
perfect
. I wish everybody could have tasted it.
KLB:
You source local ingredients and products, and I've read that you even compost at Brooklyn Standard. What can you tell us about sustainability and eating locally?
CU:
The model for Brooklyn Standard was all about sustainability. Before we even opened, the
New York Times
was there questioning how I was going to re-define the local bodega. The idea that I work with is that local, organic, and green should be the standard, not the alternative. You shouldn't have to go to Whole Foods or a once-a-week farmers market to get what you want to eat. People should have access to local, organic and green food every day like it's normal. I hate that in order to get food and groceries that are healthy and good for you and the planet, you have to pay more for them and go to further lengths to get them. The Standard is about bringing items that other stores market as
specialty
to a street level. That's why we sell a small cup of Stumptown [coffee] for $1 — just like all corner stores do, but our coffee comes from a supply change that you can be proud of. An egg on a roll is $2 just like every other bodega or food cart in NYC
but
our eggs are from a farm Upstate — organic and fresh.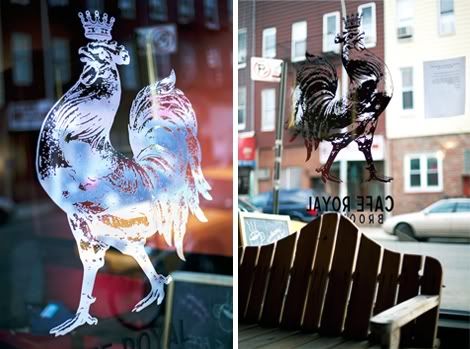 KLB:
Word is, you have a fourth restaurant on the way. Will you tell us a bit about what's to come? Will there be any vegan dishes?
CU:
COBRA Kai! Www.cobrakaibrooklyn.com.
But I've put this on hold — on Oct 25th my family and I experienced the sudden passing of my father. I took a 6-week trip through India and on my return, chose to re-center and focus on what's already on my plate. The idea of Cobra Kai is still very energizing, the concept is strong and the recipes are being perfected. But at this point after re-prioritizing, I'm not yet ready for another new opening. Cobra Kai will live, it's just a matter of when I am personally and professionally ready, and whether or not Manhattan Avenue [in Greenpoint, Brooklyn] is ready for it.
KLB:
What's the best advice you've ever been given?
CU:
When I was barely a teenager, I'd caused some trouble and had to spend the night in the County jail in Corvallis. My dad came to pick me up early the next morning. While I waited for his truck to pull into the lot, I was just sick with anxiety and remorse. Then, there he was. He pulled up, stopped his truck right in front of where I was standing, and surprisingly he didn't get mad. He didn't explode. He wasn't angry. He just looked right at me, the most sincere I'd ever seen him, and he said: "You have to get passionate about something. It doesn't matter what it is, you just have to." So I did.
KLB:
If you weren't a chef and restaurateur, what would you be doing?
CU:
This will come as a shock to most people but I would be a Cop. I'm fascinated with criminal justice. The only problem is that I don't have the mustard to be a street cop riding around giving traffic tickets, but I would make a great detective — homicide unit, SVU type shit. I've truly thought that if I ever decided to give up the NYC dream, I would return to Oregon and be a local cop in my hometown.
To learn more about Cody and his current and future projects, check out
his blog
.
Brooklyn Label
,
Papacitos
,
Brooklyn Standard
and Cafe Royal (pictured) are all located in Greenpoint, Brooklyn and offer fantastic vegan options.