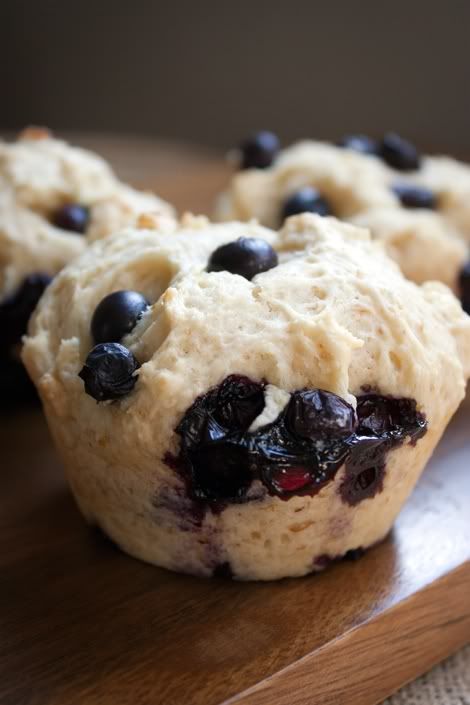 Last week I was thinking
about basics — staples — those recipes you keep on file and use frequently. Maybe you already have your favorite go-to basic recipes but they're not all exactly pure vegetarian; or maybe you're stuck trying to veganize family recipes. With this in mind, I chose to start a new column for basic pure veg recipes. These are the ones you'll reach for any time you want to cook or bake that staple.
The first Basics recipe is Basic Blueberry Muffins. This one is also a Veganize It — I took a fab recipe from Smitten Kitchen and worked some pure veg magic. The muffins came out wonderful! The only issue I had was that the original recipe makes 9 to 10 standard muffins — two short from the regular dozen. I haven't given it a try but I might consider playing around with the amounts to yield a perfect dozen standard or 6 jumbo muffins.
5 tablespoons Earth Balance Natural Buttery Spread, softened to room temperature (recommended: Soy Free)
1/2 cup granulated sugar
2 1/2 tablespoons golden flax meal
3 tablespoons water
3/4 cup plain or vanilla soy yogurt
1/2 teaspoon grated lemon zest
1 1/2 cups unbleached, all-purpose flour
1 1/2 teaspoon baking powder
1/4 teaspoon baking soda
1/4 teaspoon salt
3/4 cup blueberries, fresh or frozen (if frozen, do not defrost)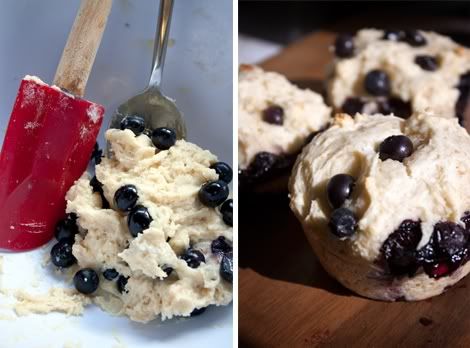 To start:
Preheat oven to 375°F. Line a muffin tin with 10 paper liners or spray each cup with a nonstick spray. In a small bowl, whip the flax meal and water together with a wire whisk until it thickens and has a gooey consistency, set aside.
Prepare the batter:
In a large bowl, beat Earth Balance and sugar with an electric mixer until light and fluffy. Add flax meal and water mixture, and beat well. Add soy yogurt and zest, and continue beating until incorporated.
In another large bowl, sift together flour, baking powder, baking soda and salt. Add 1/2 of the dry mixture to the wet mixture and mix with a wooden spoon until combined. Add remaining dry ingredients into batter and mix just until the flour disappears. Gently fold in your blueberries.
Note:
The dough will be thick, closer to cookie dough.
Bake the muffins:
Fill the muffin tin with batter using a large spoon or ice cream scoop — they should be about 3/4 full. For extra-special muffins, sprinkle large sugar crystals over batter before putting the muffin tin in the oven. Bake for 25 to 30 minutes, until the muffin tops are golden and a toothpick inserted into the center of the muffins comes out clean of batter. Let cool for a few minutes, and serve warm with a generous pat of Earth Balance.
Makes 9 to 10 standard muffins or 5 jumbo muffins