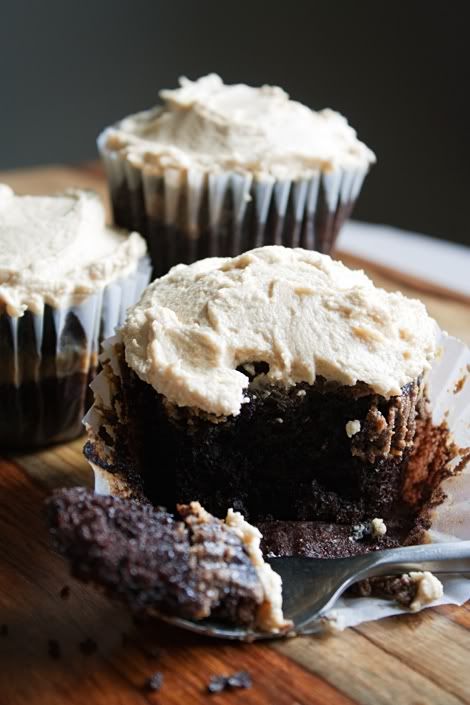 Vegan cupcakes
are pretty much as de rigueur in America's bakeries as their egg- and dairy-laden counterparts now. I'm still obsessed with these sweet little cakes — they're just too easy to put together in no time, no matter how wild and creative you choose to be. On Saturday morning I made Double Chocolate Peanut Butter Swirl Cupcakes to satisfy a sudden chocolate/peanut butter craving. And they more than satisfied.
DOUBLE CHOCOLATE PEANUT BUTTER SWIRL CUPCAKES
1 cup almond milk
1 teaspoon apple cider vinegar
1 cup granulated sugar
1/3 cup vegetable oil
1 teaspoon vanilla extract
1/2 teaspoon chocolate extract
1 cup unbleached all-purpose flour
1/3 cup cocoa powder (recommended: Valrhona Dutch-processed)
3/4 teaspoon baking soda
1/2 teaspoon baking powder
1/4 teaspoon salt
3 tablespoons peanut butter, softened in the microwave
1/4 cup chocolate chips (recommended: Ghirardelli semi-sweet)
1/4 cup chopped pecans, walnuts or peanuts
A note about chocolate extract:
If you can't find it in your local store, use an additional 1/2 teaspoon of vanilla extract instead. And if you're not quite sure what chocolate extract is? Check out the
wonderful write-up
David Lebovitz did about it a few years ago.
1/4 cup Earth Balance Natural Buttery Spread, softened
2 tablespoons shortening (recommended: Earth Balance. You can use Crisco in a pinch — it's vegan, but man is it bad for you!)
1/3 cup creamy peanut butter (recommended: Skippy Natural — natural stir peanut butters will not work)
1 1/2 teaspoons vanilla extract
1 1/4 cups confectioner's sugar, sifted
1 to 2 tablespoons almond milk
To start:
Preheat the oven to 350°F and line a muffin pan with cupcake liners. Whisk the almond milk and apple cider vinegar together in a large bowl and set aside for a few minutes to curdle. When curdled, add the sugar, oil, vanilla extract and chocolate extract to the almond milk mixture and beat with a wire whisk until foamy.
In another bowl, sift the flour, cocoa powder, baking soda, baking powder and salt together and stir to combine. Add this dry mixture in two batches to the wet ingredients mixture and beat with a wire whisk until no large lumps remain. Fold in the chocolate chips and nuts with a spatula.
Bake the cupcakes:
Pour batter into liners, filling about 3/4 of the way to the top. Before placing in the oven, add a small spoonful of softened peanut butter to the tops and swirl through with the back of your spoon. Bake 20-30 minutes, until a toothpick insterted into the center comes out clean (except for chocolate chip goo). Transfer to a cooling rack and let cool completely before frosting.
In the meantime, make the frosting:
Cream together the Earth Balance and shortening with a handheld mixer at medium speed until smooth and creamy. Add peanut butter and vanilla, and beat until very smooth, 2 to 3 minutes. Beat in sugar until mixture is very stiff, then dribble in almond milk a little at a time, beating continuously until the frosting is pale tan and very fluffy.
Frost or fill cooled cupcakes and serve.
Recipe adapted from Your Basic Chocolate Cupcake in
Vegan Cupcakes Take Over the World