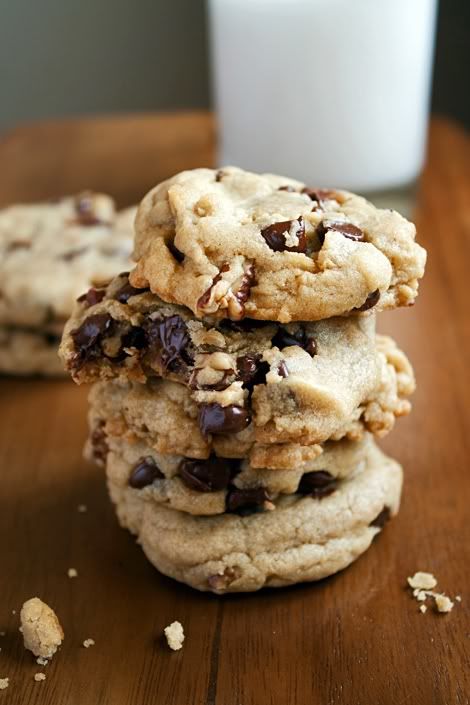 Every home baker
needs the perfect go-to chocolate chip cookie recipe — this will be yours, whether you're vegan, vegetarian or none of the above. Moist and chewy on the inside, crispy on the outside; these cookies are simply some of the best I've ever tasted (or made)! I added chopped pecans to mine, but the sky's the limit when it comes to add-ins for these babies.
BASIC CHOCOLATE CHIP COOKIES
1 cup Earth Balance Natural Buttery Spread, softened
1 cup granulated sugar
1 cup brown sugar, lightly packed
5 tablespoons golden flax meal
6 tablespoons water
2 teaspoons vanilla extract
3 cups all-purpose flour
1 teaspoon baking soda
2 teaspoons hot water
1/2 teaspoon salt
1/2 bag semisweet chocolate chips
1/4 cup chopped pecans or walnuts
To start:
Preheat oven to 350° F. Line 2 cookie sheets with tin foil, and set aside. In a small bowl, whisk together the flax meal and 6 tablespoons of water until mixture thickens and reaches a consistency similar to egg whites; set aside (this is your egg replacer).
Prepare the dough:
Cream together the Earth Balance, sugar, and brown sugar with a handheld mixer on medium speed until smooth. Beat in the flax meal mixture 1/2 at a time, then stir in the vanilla.
In another small bowl, dissolve baking soda in 2 teaspoons hot water. Add mixture to batter along with salt.
Stir in flour, 1 cup at a time. You may want to put in some elbow grease and use your hands to knead and mix the dough once it becomes too thick to mix with a wooden spoon or spatula. Fold in chocolate chips and nuts.
Bake the cookies:
Drop dough by large spoonfuls onto ungreased cookie sheets. Bake for 10 to 12 minutes in the preheated oven, being careful not to overbake.
Remove from oven and let sit on cookie sheets for a minute or two, then use a spatula to move them to a wire rack or countertop to cool thoroughly before enjoying.