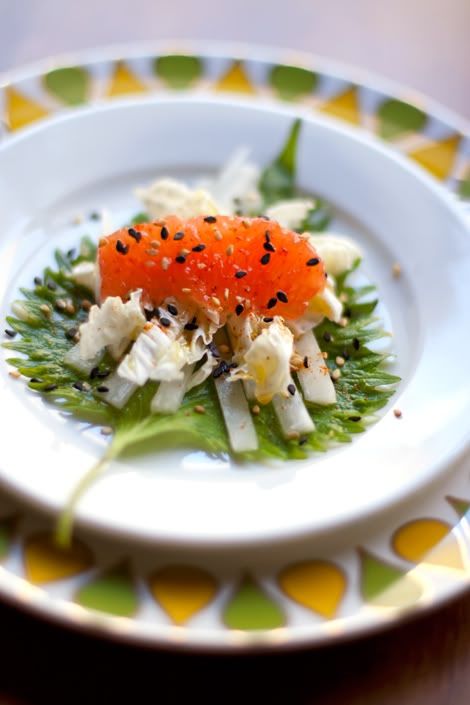 It's been a while
since I made a recipe directly from one of the cookbooks in my personal library — I usually find myself taking bits and pieces from many to create my own recipes, or making changes to a cookbook recipe in order to make it my own. But since discovering a Sunrise Mart location near my office in Manhattan, I was inspired to pull out my copy of Chef Tal Ronnen's
The Conscious Cook
and make this gorgeous, light appetizer on an equally gorgeous summer day. These bites get a kick from added cayenne pepper, and are folded like a little roll-up when you're ready to eat them.
If you're not in the NYC area and/or have never heard of Sunrise Mart? What a wonderful, fully-stocked Japanese market! Whenever you find yourself in need of items like shiso leaves, S&B curry powder, Japanese snacks and other uncommon imports in NYC, Sunrise Mart is where you'll find them.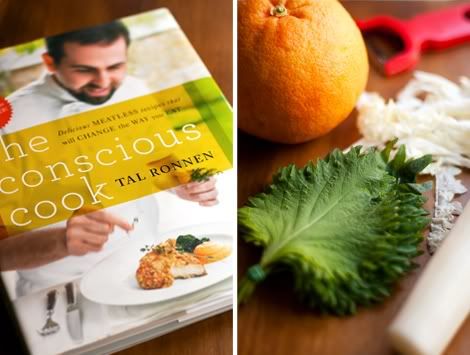 Chef Tal's Shiso Bites recipe can be found in his cookbook, The Conscious Cook, along with a bunch of other fab vegan recipes that I'm positive veggies and omnivores alike will love — he was Oprah's chef during her vegan cleanse, so you sort of almost can't go wrong. Highly recommended.
The recipe calls for supremed grapefruit, so I figured this would be a great time to give instructions on how to supreme citrus fruits for those who aren't familiar with the term or process. Supreming is a culinary technique used simply to make fruit look more special in salads and desserts when you may not want the slight bitterness and look of any pith or membrane to come through. Here's how you can do it yourself: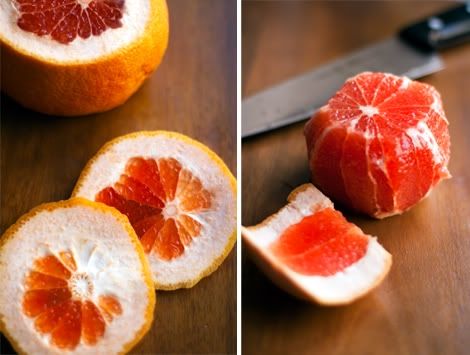 HOW TO SUPREME CITRUS FRUITS
1.
Start with a whole fruit — the largest tangerines, oranges, grapefruits, etc. that you can find.
2.
Cut off the very top and bottom of the fruit to reveal the colored center.
3.
Set the fruit cut-side down on your cutting board and go around the edges removing the skin with a chef's knife, following the shape of the fruit until all of the peel has been removed.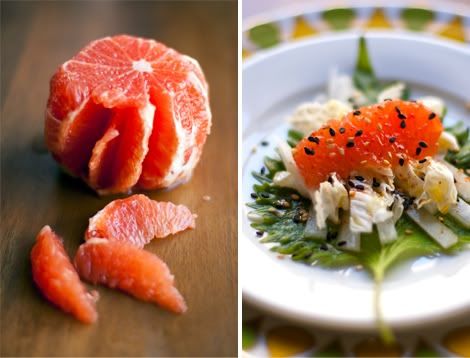 4.
Switch to a paring knife and put your knife between the membrane and the fruit segment, starting on the left side of each segment. Slice the left side of the segment first, then the right side between the membrane and segment, popping the segment out, free of the membrane and pith. Go around the fruit and do this for each segment until you've cut them all out.
Viola! Naked fruit segments that look lovely in your final dish.

For more information on
The Conscious Cook
and Chef Tal Ronnen, visit hi
s
website
. To learn more about Sunrise Mart, visit one of their Manhattan locations: 29 3rd Ave (between 10th Street and 2nd Ave), 494 Broome Street, or 12 E. 41st Street (between 5th Ave and Madison Ave.)