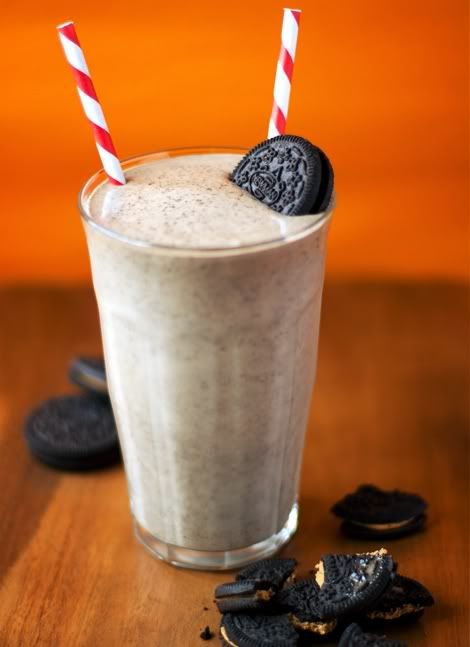 Summer is here
, and while I'm excited to be able to announce that I finally have an ice cream maker — I've just begun to experiment with creating my own pure vegetarian (vegan) ice cream flavors — I wanted to share a quick and easy recipe for the quintessential pure veg milkshake that requires nothing more than a good blender and a few key store-bought ingredients. Perfect for sharing with your special someone on a hot summer day!
There's no need to toil in the kitchen making your own non-dairy ice cream. Some great products exist on the market, it's just a matter of trying each of the options and choosing which one best suits your taste. As a general rule, I don't like to suggest specific brands unless using one in particular is important to the recipe. In this case, I've chosen certain products and brands according to what works and tastes best in this recipe. You're welcome to experiment with your own choices but to get the optimal results, I highly recommend purchasing and using the brands listed. What you'll get is a ridiculously delicious pure veg milkshake that would fool anyone into thinking it's a dairy shake.
For a prime vanilla milkshake base, eliminate the cookies and peanut butter! Play around with your own add-ins and see what amazing milkshake flavors you can come up with.
A side note: A milkshake is always going to be a special treat. This shake is vegan and also perfect for those who can't have dairy, but it's still loaded with sugar and calories. When people hear that my desserts are vegan, many ask, "So it's healthy for me?" Not really! It's certainly better than taking in all the dairy you'll find in a regular milkshake, but any dessert that's this full of sugar and calories — and this ridiculously delicious — should definitely not be considered health food, and should be eaten in moderation.
PEANUT BUTTER COOKIE MILKSHAKE
1 pint Purely Decadent Dairy Free Purely Vanilla ice cream
1/3 cup Silk original flavor soy creamer
6 Newman's Own Peanut Butter Newman-O's, broken into 4 pieces each
2 tablespoons Skippy Natural creamy peanut butter, or other no-stir creamy natural peanut butter
Make your milkshake:
Add non-dairy ice cream, cookies, peanut butter and soy creamer into a blender. Cover and blend until smooth and creamy. Serve in a large glass with two straws for sharing or divide between two smaller glasses, garnish with a Peanut Butter Newman-O and enjoy!