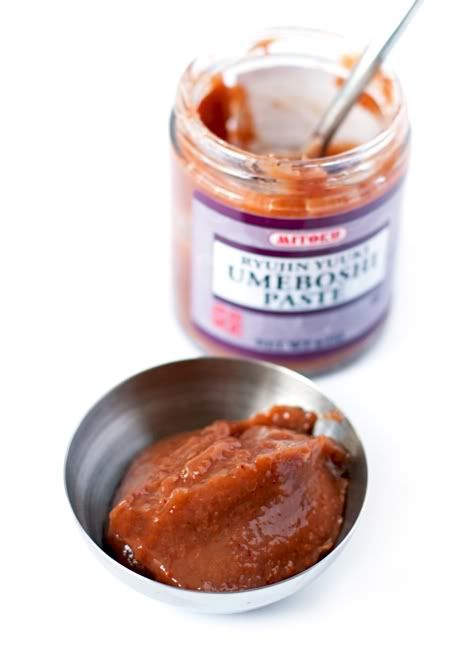 When I first became
Pure Vegetarian (Vegan), I realized the hard way just how heavily Americans and Europeans use cheese to flavor dishes. Giving up the burger was hard enough, but leaving the cheese off the veggie burger just seemed too much to handle. How would I make it taste good? And pasta: Those Parmigiano-Reggiano shavings sprinkled over the top really finish a dish and round out the flavors. In short, I had to learn about new ingredients and new ways to flavor my food — and that's where the fun began.
Enter Umeboshi Paste.
Umeboshi Paste is a salty, tangy Japanese condiment made from dried, pickled Ume fruits. In Japan, the pickled Ume fruits (Umeboshi), are often served with rice or tucked inside a rice ball wrapped with nori.
You can find Umeboshi Paste in most natural markets, many supermarkets alongside the Asian condiments in the International aisle, or in specialty Japanese and other Asian markets. I purchase my Umeboshi Paste at Sunrise Mart in Manhattan.
Umeboshi Paste is an extremely versatile seasoning. Use it to add a pleasant tartness to salad dressings, dips, spreads, marinades, soups, cooked vegetables and other sauces. Spread Umeboshi Paste lightly on thick cucumber rounds for a cooling summer treat, and spread it thinly on cooked corn-on-the-cob for a healthy alternative to butter and salt. Umeboshi and Umeboshi Paste pair well with members of the cabbage family, too — especially broccoli and cauliflower.
Another great way to start using Umeboshi Paste? In stir-fry recipes, like the one that follows. I like to stir-fry with Asian noodles, tofu and various veggies I've picked up at my local greenmarket but stir-fries are also great with rice, and are flexible in that you can pretty much throw in whatever veggies you have and need to use up, and then whip up another batch with beef, chicken or pork for any die-hard omnivores in the family.
STIR-FRIED SOBA NOODLES WITH SNOW PEAS AND MUSHROOMS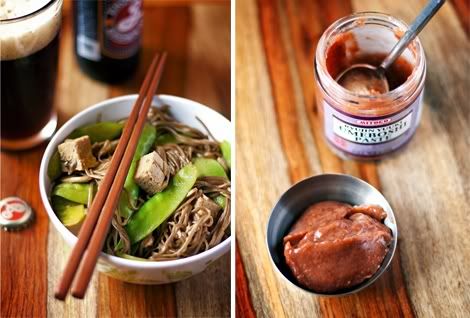 For the stir-fry
•
About 8 oz soba noodles (1 package), cooked according to package instructions, rinsed well and drained, and set aside in a colander
•
1 greenmarket pint fresh snow peas (a bag of frozen snow peas, thawed, will do in a pinch), rinsed, tips and strings removed
•
8 oz fresh, sliced mushrooms
•
1 package of extra firm tofu in water, drained, pressed to remove most of the moisture, and cut into small cubes
•
1 tablespoon peanut oil (for cooking)
For the sauce
•
1/4 cup tamari (Japanese wheat-free soy sauce)
•
1 teaspoon granulated sugar
•
1/4 teaspoon umeboshi paste
•
A few pinches each of red pepper flakes, black sesame seeds, and gomasio (white sesame seeds with sea salt), to taste
Prepare the sauce:
In a small bowl, combine rice vinegar, tamari, sugar, umeboshi paste, red pepper flakes and sesame seeds, and whisk until fully incorporated. Set aside.
Start the stir-fry:
Heat peanut oil in a large frying pan or wok over high heat. Add the tofu and stir-fry until golden brown, then remove from the wok and set aside in a bowl.
Add the snow peas and mushrooms to the wok (you may need to add a drop more peanut oil if the wok has become too dry), salt lightly with sea salt. Stir-fry until the peas are just tender but still crisp (and bright green) and the mushrooms are just browned and soft.
Add the cooked, rinsed and drained noodles to the wok (you may need to run them under water and drain again if they're stuck together), along with the cooked tofu. Add the stir-fry sauce to the wok over the noodles and veggies. Stir-fry and toss until noodles start to brown slightly and veggies, tofu and noodles are well-coated with sauce. Remove from heat and stir in a dash of sesame oil. Serve in shallow bowls and eat with chopsticks.