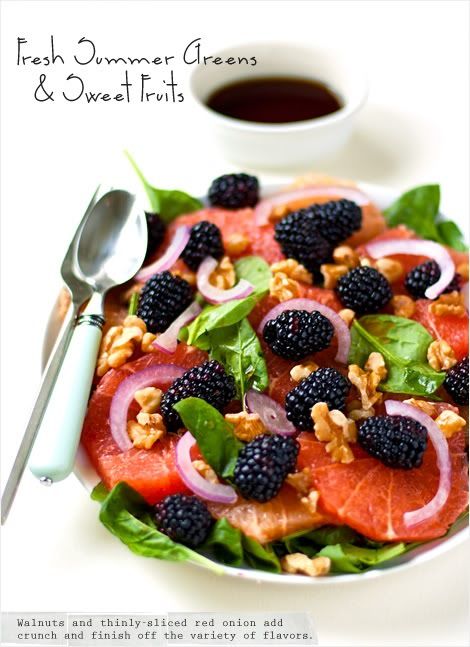 Friday and Saturday
brought us the most hellish 100°-plus weather here in NYC. After sweating around town on Saturday, I came home late in the evening feeling like the last thing I wanted to do was cook — or eat. Enter this salad.
When I was young, my mother would make an enormous Chef's Salad on similarly hellishly-hot days — the combination of thick deli ham, hardboiled eggs, and cheese (and sometimes turkey) with crisp iceberg lettuce, sweet tomatoes and cool, creamy dressing tasted so perfect to me. Now that I've been eating the Pure Vegetarian way for more than three years, my go-to hot weather salads are different — just a bunch of fresh baby greens, juicy tomatoes or citrus fruits, a handful of other fresh ingredients that mesh well with the base flavors, and a few dashes of oil and vinegar. A salad like that couldn't be sweeter, or lighter; or for that matter, easier to pull together.
A note on the oil and vinegar I used to dress my salad: walnut oil and sherry vinegar are not cheap, but don't skimp on these ingredients and use substitutes — the subtle, sweet notes in both are the perfect complement to the variety of flavors in this salad, and the wonderful nutty tone of the walnut oil is incomparable.
SPINACH AND PINK GRAPEFRUIT SALAD WITH BLACKBERRIES, RED ONION, WALNUTS, SHERRY VINEGAR AND WALNUT OIL
(Makes one large salad for two)
•
1 cup fresh baby spinach, washed and dried
•
2 large, ripe pink grapefruits, skin cut off (see directions for
citrus supremes
to get an idea of how to remove the skin), sliced into 1/4-inch rounds
•
1 pint fresh blackberries, washed and dried
•
1 very small red onion, thinly sliced
•
1/4 cup chopped walnuts
•
3 teaspoons sherry vinegar
Make your salad:
Lay baby spinach on a large plate, spreading out to create a bed of greens. Top with grapefruit rounds, going around the plate, layering until the plate is full. Sprinkle with blackberries, onion and walnuts. Drizzle walnut oil over salad, followed by sherry vinegar. Serve family style, with an extra small bowl of sherry vinegar for adding to individual plates if desired.