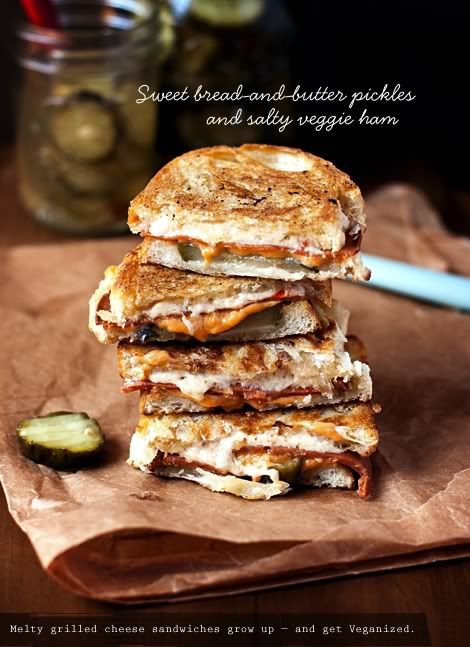 I probably should have
hung in there until early next week to post this, but I just couldn't wait to share the recipe with you. Inspired by the August issue of
Bon Appétit
magazine, I made homemade
bread-and-butter
pickles — and then a vegan version of the grown-up
grilled cheese sandwiches
featured in the mag as well. My version of the recipe is great for beginners to Vegetarianism and Pure Vegetarianism because it utilizes easy-to-find store-bought Pure Veg essentials like veggie deli ham and Daiya non-dairy cheese, and it really takes almost no time to make. If you're just starting out, recipes like these will help you to maintain a Pure Veg diet
and
get your fix of that cheesy, buttery taste you may still be craving. Later, when you're ready, you can start to drop faux cheeses and meats from your diet altogether and opt for all-natural, healthier alternatives to dairy cheese and meat.
The trick to working with the veggie deli ham (I know it sounds gross, and it kind of is if you just slap it raw between two slices of bread), is to fry it in Earth Balance for a few minutes until it becomes golden on top and crispy on the edges (sort of like Canadian bacon fried in dairy butter). Mixing Daiya Cheddar-style Shreds and Pepperjack-style Shreds in just the right amount creates a perfect melty layer of non-dairy cheese with a little bit of a kick; and the addition of bread-and-butter pickles brings in a layer of briny-sweet goodness.
GRILLED CHEESE SANDWICHES WITH VEGGIE HAM AND BREAD-AND-BUTTER PICKLES
(Makes two sandwiches)
•
2 tablespoons Earth Balance Natural Buttery Spread
•
2 slices Yves Meatless Deli Ham
•
4 slices of rustic white or sourdough bread
•
1 handful per sandwich each of Daiya Cheddar-style Shreds and Pepperjack-style Shreds
•
6 bread-and-butter pickle rounds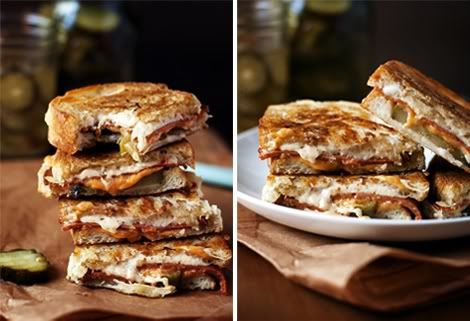 To start:
Lay out bread slices on two plates (two slices per plate). Spread all 4 slices with Vegenaise. Top one slice per sandwich with a layer of Pepperjack Daiya, and set aside.
Cook the ham:
Heat 1 tablespoon of the Earth Balance in a medium frying pan over medium heat, moving it around the pan until melted. Add the meatless ham slices and fry for 3 - 5 minutes on each side, until tops are golden and edges are slightly crispy. Remove ham from pan and set one slice per sandwich on top of the cheese layer.
Make the grilled cheese sandwiches:
Top ham slices with a layer of Cheddar Daiya, and three pickle rounds. Close sandwiches with the Vegenaise layer of the top slice facing in, and press firmly together.
Add the rest of the Earth Balance to the frying pan and melt again by moving it around the pan. Using a spatula, transfer each sandwich to the frying pan. Cook for 4 minutes, then flip over to the other side and cook for another 4 minutes, or until crust is golden brown and crispy, and Daiya has melted nicely. Remove sandwiches from pan and return to plates. Serve immediately.