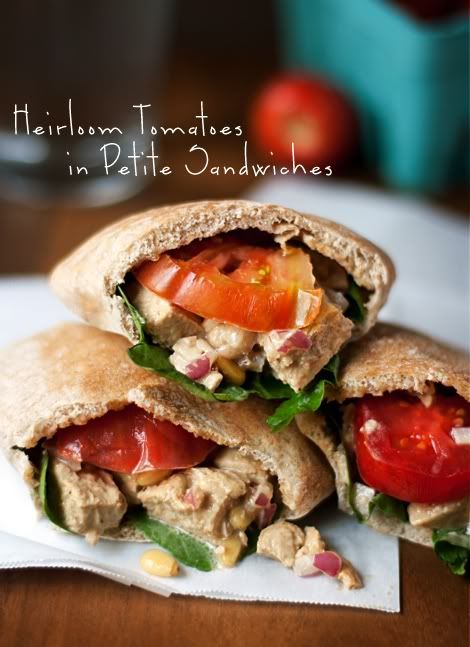 First, here's hoping
that everyone in the states had a wonderful long Fourth of July weekend. While it's back to work for me in NYC, a few lucky members of my family from southeast Pennsylvania were able to take today off to drive to Gettysburg — I can't even begin to tell you how kinda jazzed any one of us would be to see and/or photograph Civil War ghosts there during the summer anniversary of the famous battle. I didn't make it home to PA this year; instead, I chose to spend my 4th in NYC. I lounged in Brooklyn's Prospect Park for most of the afternoon, having a low-key picnic with a few good friends. Later, we made new friends at a random hipster BBQ/concert/DIY fireworks show in an empty lot behind my apartment (seriously, I can't make up stuff like that in my neighborhood), complete with rooftop access, plenty of Pabst (really) and some actually genuinely cool people.
I couldn't wait to use the beautiful heirloom and cherry tomatoes I purchased at the greenmarket this weekend, so my picnic contribution was the cute little sandwiches in the photo above. Read on to see how quick and easy it is to make them at home.
CHICK'N SALAD MINI PITAS WITH BALSAMIC VINEGAR, DIJON, PINE NUTS, ARUGULA, AND HEIRLOOM TOMATOES
•
4 packages frozen Gardein Chick'n Scallopini breasts, cooked according to package instructions, cooled, and chopped into 3/4-inch cubes
•
2 tablespoons balsamic vinegar
•
1 tablespoon dijon mustard
•
2 tablespoons finely diced red onion
•
3 tablespoons pine nuts, roasted and salted
•
Sea salt and freshly ground black pepper, to taste
•
1 large bunch or 2 small bunches arugula
•
2 large fresh tomatoes, sliced into 1/4-inch rounds
•
2 packages mini pita pockets (1 dozen per package)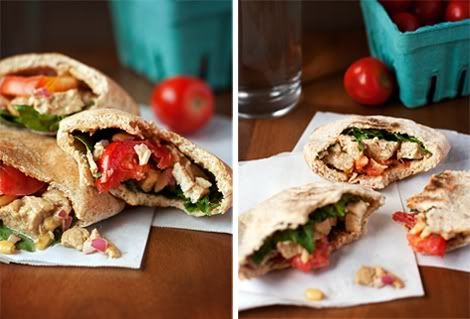 Prepare the chick'n salad:
In a large bowl, combine the chick'n cubes, Vegenaise, balsamic, dijon, and agave. Stir gently to mix together, being careful not to break up the chick'n cubes too much. Fold in the red onion and pine nuts, and season with salt and pepper.
Make the pitas:
Carefully lay 2 arugula leaves inside each pita pocket, along the bottom. Add a generous serving-spoonful of chick'n salad, and top chick'n salad with a tomato slice. Serve immediately.
Chick'n salad can be refrigerated for up to three days.