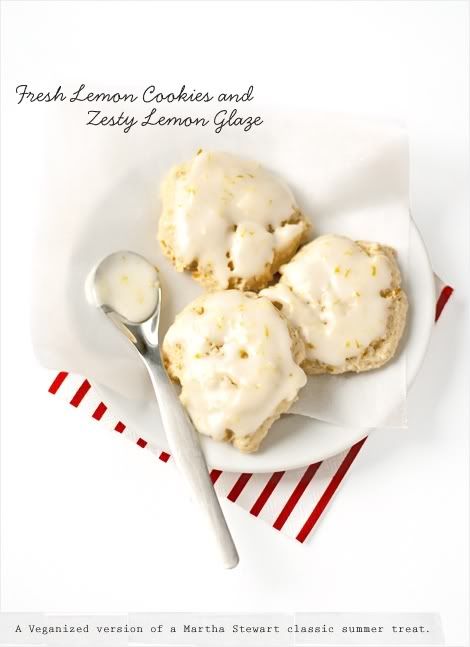 Sipping beaujolais illicitly
in the sunshine alongside the lake at Prospect Park, watching ducks dip and splash, was the perfect Sunday setting to spend once again tasting homemade pure vegetarian fare with my fellow Veganauts Terry, Mattie and Dawne (I'm joking with the snobby wording, but we did totally drink beaujolais that Mattie brought out of plastic cups while hoping not to get caught!). It seems like I've been winding up at a lot of picnics in Prospect Park this year — a good thing because I've never taken much time to explore this massive Brooklyn park, second only to Manhattan's Central Park. For this picnic I contributed a simple dessert: Veganized Glazed Lemon Cookies.
A few simple changes transformed Martha Stewart's perfect lemon cookies into perfect Pure Vegetarian lemon cookies. They are quick and painless to make, cake-y, sweet-tart, and delicious.
In case you're not familiar with what in the world I'm talking about when I say Veganauts, I'll explain:
Terry
Hope Romero
,
Mattie Hagedorn
,
Dawne Eng
and I get together once a month, or sometimes more often, for nerdy fun food outings. We (sort of) jokingly call ourselves The Veganauts.
Also, you may have seen some design changes happening to the
KLB
blog. I've been too busy with my regular day job, so a full redesign and relaunch is sort of out of the question right now — there's just no time — but I've been playing around with some small tweaks to the current situation. When I look at where my little blog was a year ago, I'm so pleased with how it's grown, and so thankful for your readership. I will continue to keep pushing
KLB
forward in both content and design as often as I can find time.
While the Twitter following has carried on growing well, the newer
KLB

Facebook page is still lacking. If you have a moment, please join me on Facebook by liking

Kitchen La Bohème

via the new button on the left-hand sidebar, and spread the word to all of your friends.
And now on to the recipe for those lemon cookies!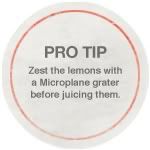 •
2 cups all-purpose flour, (spooned and leveled)
•
1/2 teaspoon baking soda
•
1 tablespoon finely grated lemon zest
•
2 tablespoons fresh lemon juice
•
1/2 cup Earth Balance Natural Buttery Spread, at room temperature
•
2 1/2 tablespoons golden flax meal, plus 3 tablespoons water, whipped in a small bowl until thickened and similar to the consistency of whipped egg whites
•
1 teaspoon pure vanilla extract
•
2 cups confectioners' sugar
•
1/3 cup fresh lemon juice
To start:
Preheat oven to 350°F. Line two cookie sheets with parchment and set aside.
Prepare the cookie dough:
In a medium bowl, whisk together flour, baking soda, salt, and lemon zest. In a large bowl, using an electric mixer, beat Earth Balance and granulated sugar until light and fluffy. Add flax meal mixture, vanilla, and lemon juice and beat until combined. With mixer on low, beat in flour mixture, half at a time.
Bake the cookies:
Drop dough by generous spoonful, 1 inch apart, onto the two baking sheets. Bake 15 or until edges are golden (15 minutes did it perfectly for me), rotating sheets halfway through. Let cool 2 minutes on sheets, then transfer cookies to a wire rack to cool completely.
In the meantime, make the glaze:
In a medium bowl, whisk together 2 cups confectioners' sugar, 2 tablespoons finely grated lemon zest, and 1/3 cup fresh lemon juice until smooth.
Spread cookies with Lemon Glaze and let set, about 1 hour.