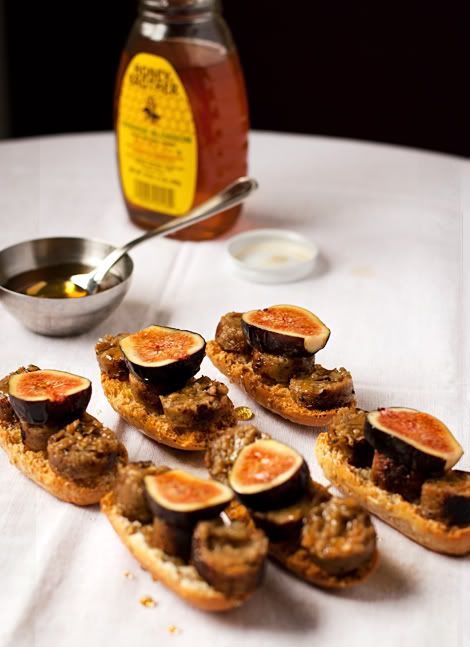 I can't say that prior to becoming
a dietary vegan I'd ever tasted a fig. Fig Newtons, yes; but a fresh fig is something entirely different. After I became dietary vegan, I began experimenting with unusual flavors and foods — spices, fruits, etc — and figs have since become one of my favorite seasonal ingredients. There's nothing like the unique sweet taste and texture of fresh figs, so catch them now at your local greenmarket before they quickly go out of season. Best paired with chevre and prosciutto, figs also fare well in vegan and vegetarian dishes, sans cheese and meat. I grabbed a pint of Black Mission figs at the greenmarket on Saturday but wasn't quite sure what I wanted to do with them; until I remembered Field Roast Grain Meat Co.'s Smoked Apple Sage sausages. The pair became the main ingredients in some quick, savory-sweet Crostini.
A note for super-strict vegans: I've used orange blossom honey as the finishing touch on my Crostini. By all means, please substitute agave nectar or leave it out altogether if you don't believe in eating honey — it's only an extravagant final touch, and not 100% necessary to make the dish truly tasty.
For vegetarians and lenient vegans who do eat honey: Orange blossom honey is very sweet, with unique citrus notes. It complements the fresh figs and veggie apple sausage wonderfully!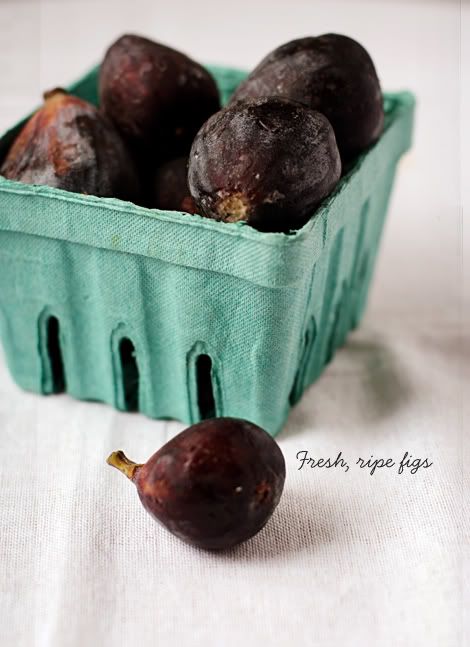 FRESH FIG AND VEGGIE APPLE SAUSAGE CROSTINI, DRIZZLED WITH ORANGE BLOSSOM HONEY
1 bag sesame or other crisp bread
1 tablespoon extra-virgin olive oil
1 package Field Roast Grain Meat Smoked Apple Sage Sausage (4 sausages), casings removed
2 tablespoons vegetable oil
1 pint fresh, ripe figs, stems trimmed, sliced in half lengthwise
1 tablespoon orange blossom honey
To start:
Heat vegetable oil in a large skillet over medium heat. Add sausages and cook for about 2 minutes on each side, allowing them to get brown and crispy on the outside. Remove from skillet and set aside on a cutting board.
In the meantime:
If you haven't prior, rinse the figs and trim their stems. Slice figs in half lengthwise, and trim the round side off, too — this will allow the slices to lay flat on the crisp bread.
Slice the sausage into 1/4-inch rounds.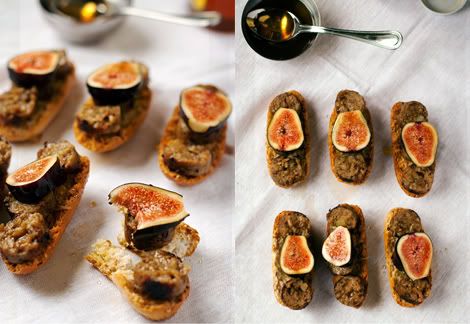 Put together the Crostini:
Lay as many crisp bread slices as you can fit, flat side up, on a large serving platter. Drizzle all crisp bread with extra-virgin olive oil. Place 3 sausage rounds on each crisp bread, and lay a fig slice over the center sausage round. Once Crostini are assembled, use a spoon to drizzle honey over them all. Transfer Crostini to a clean platter and serve immediately, or serve them as-is on the original serving platter.
Photography, styling and design by Alyssa; photographs ©2011 Alyssa Yeager.