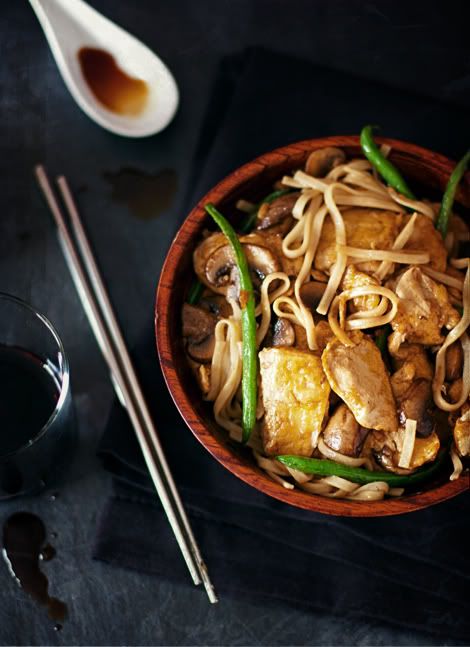 I came home on Friday evening
to the December 2011 issue of
Saveur
in my mailbox, and the cover photo stopped me dead — it may not be vegetarian, but their Lobster Fra Diavolo Italian Christmas feast is simply gorgeous. I still haven't done much (really any) preparation for Christmas but I did want to share at least one recipe with you before we all break for the upcoming Thanksgiving holiday. If you find yourself in need of a quick and easy Pure Veg meal during the downtime between the main feast and the following Monday, this stir-fry might do the trick.
The
Saveur
cover that got me giddy
Just a note: I've used udon in this stir-fry, but it would also be wonderful with rice served on the side instead.

"CRISPY CHICKEN" STIR-FRY WITH BABY BELLA MUSHROOMS AND HARICOTS VERTS
•
1 package Gardein Crispy Chick'n tenders, sauce removed and discarded
•
1/2 to 1 tablespoon peanut oil
•
1 pint haricots verts, rinsed and trimmed
•
1 pint baby bella mushrooms, brushed clean and cut into 1/4-inch slices
•
3.5 oz dried udon noodles
•
2 - 4 tablespoons tamari
•
1 teaspoon rice vinegar
To start:
fill a small saucepan with water and bring to a boil over high heat. Add udon and allow to cook for 5 minutes. Remove from pot and set aside to drain in a colander.
In the meantime, stir-fry the vegetables:
In a large skillet or wok over high heat, add peanut oil, then green beans and mushrooms. Sprinkle with salt; cook, stir-frying until vegetables are just beginning to get soft but still crispy. Add 1 - 2 tablespoons tamari and cook only a few minutes longer, stirring, until sauce has reduced. Remove vegetables from pan and set aside in a bowl.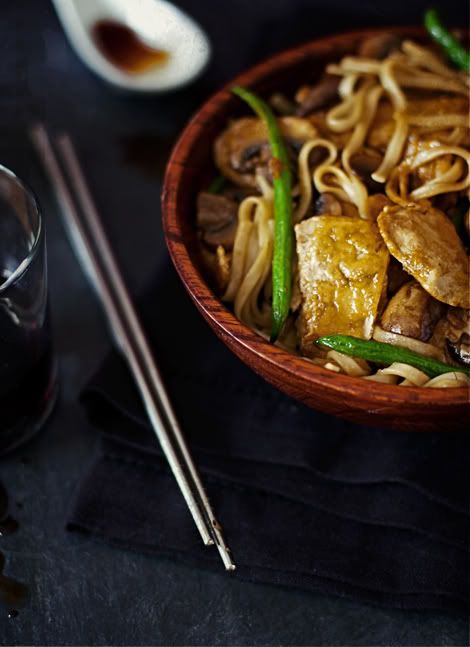 Prepare the Stir-Fry:
Add more peanut oil to pan if it has become too dry. Add Crispy Chick'n tenders and stir-fry according to package instructions, until browned and crisp on all sides. Add udon and cooked vegetables, and the rest of the tamari, and rice vinegar. stir-fry until all ingredients are thoroughly warmed and combined.
Remove from heat. Add sesame oil and stir to combine. Serve immediately in large bowls or on plates, with chopsticks.
Photography, styling and design by Alyssa; photographs © Alyssa Yeager