I am one of those people
who seems to always end up cooking for other people. I guess this wouldn't be so bad; only, when you're at a friend's house as the
guest
, you tend to sort of expect a little more from your host (like being waited on hand-and-foot and stuff).
The truth is, I go to friends houses hoping for the opportunity to cook for them and share a Pure Vegetarian meal that changes their already-set view of vegan food (usually as gross sprouts and uncooked, blob-y tofu). So when this exact opportunity presents itself, I'm always thrilled.
This weekend I had the chance to cook for my out-of-town friends using Gardein's new Crispy Chick'n again. Only, this time I made a sweet-and-sour stir-fry. I was lucky enough to be hanging out with some of my fave fellow creatives and foodies. We chatted about design, art, personal work, and then about opening a mixed vegan/vegetarian/omni restaurant and bakery together in DC — a refined version of this dish was totally already considered for the hypothetical menu.
SWEET-AND-SOUR "CHICKEN" WITH SPROUTED BROWN STICKY RICE AND SUGAR SNAP PEAS
Serves 3-4
•
4 tablespoon low-sodium tamari
•
1 1/2 cups vegetable broth
•
4 teaspoons granulated sugar
•
2 teaspoons Sambal Oelek, or other Asian chile sauce
•
3 tablespoons rice vinegar
•
4 tablespoons peanut oil
•
4 tablespoons minced fresh ginger
•
2 garlic cloves, minced
•
2 bags Gardein Crispy Chik'n
•
1 10-ounce bag frozen sugar snap peas, cooked
•
4 cups sprouted brown sticky rice (also known as "sweet rice" or "glutinous rice"), soaked in water for 30 minutes, drained and steamed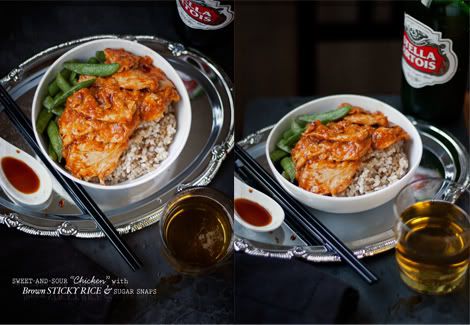 To start:
In a small bowl, whisk together the ketchup, tamari, vegetable broth, sugar, chile sauce, cornstarch and vinegar. Set aside.
Prepare the stir-fry
: In a large skillet or wok over high heat, add the oil and swirl to coat the pan. Add the ginger and garlic and cook until fragrant (about 10 seconds). Add the Crsipy Chik'n and cook until soft and browned on the outside, but not cooked through (about 1 to 2 minutes). Whisk the prepared sauce and add it to the pan over the Crispy Chik'n. Cook, stirring until the sauce is thickened and the Chik'n is cooked through (about 3 minutes).
Serve immediately with Sugar Snap Peas and steamed sticky rice.
Photography, styling and design by Alyssa; photographs ©Alyssa Yeager