Feeling guilty from hearing
other's resolutions for 2012, I tried to come up with a list of my own. But what I found myself doing instead was remembering some of the promises I'd made to myself at the start of other years gone by—specifically why I made the choice to stop eating meat and dairy, and began moving into a nearly 100% vegan diet. Because "vegan" can be a scary word for some, I like to call my dietary choice Pure Vegetarian.
After reading Slaughterhouse by Gail Eisnitz three years ago, I realized I could no longer pour my hard-earned money into an industry I was now discovering to be so terribly corrupt. I was disgusted by not only the unimaginable cruelty to farm animals, but also the sickening product contamination, and horrifying events workers in slaughterhouses and on factory farms are subjected to on a daily basis. An activist at heart, I did what I figured I could to back my new cause. So I went Pure Vegetarian; and whether you want to call it Vegan or Pure Vegetarian, the transition wasn't scary at all.
Over the years, I've tried to spread the word to as many people as possible without being preachy or overbearing. I started Kitchen La Bohème to help with that. And I wanted naysayers to see just how amazing vegan food can look and taste!
Below is the first KLB recipe of the new year—a sweet recipe with a kick. I promise, it's the total opposite of scary.
CHEWY MEXICAN CHOCOLATE COOKIES (Made with Taza Chocolate Mexicano)
•
5 ounces bittersweet (60 to 70 percent) chocolate, coarsely chopped
RECOMMENDED: Taza Chocolate Mexicano Vanilla and/or Cinnamon flavor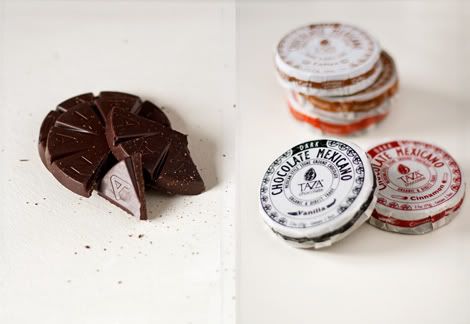 •
3/4 cup all-purpose flour
•
1/2 teaspoon ground cinnamon
•
1/4 teaspoon baking powder
•
Dash of ground red pepper (Cayenne)
•
1 1/4 cups granulated sugar
•
1/4 cup Earth Balance Natural Buttery Spread, softened
•
2 1/2 tablespoons golden flax meal beat together with 3 tablespoons water in a small bowl
•
1 teaspoon pure vanilla extract
To start:
Preheat oven to 350°. Line 2 baking sheets with parchment; set aside.
Prepare the cookie dough:
Place chocolate in a small glass bowl; microwave on high for 1 minute or until almost melted, stirring until smooth. Set aside and cool to room temperature.
In a medium bowl, combine flour, cinnamon, baking powder, salt, pepper and Cayenne; stir with a whisk until fully incorporated.
In a large bowl, combine sugar and Earth Balance; beat with a handheld mixer at medium speed until well blended (about 5 minutes). Add flax meal/water mixture; beat well. Add cooled chocolate and vanilla; beat until just blended, being careful not to over-mix. Add flour mixture; beat just until blended.
Bake the cookies:
Drop dough by level tablespoons 2 inches apart on baking sheets lined with parchment. Bake at 350° for 10 minutes or until almost set (my tired, old oven required 13-14 minutes of baking; but ovens vary, and while you don't want your cookies to be raw in the center, you want to be careful to pull them from the oven before they look very done, or they will be overbaked).
Remove cookies from oven. Cool on pans for 2 minutes or until set. Remove from pans; cool completely on a wire rack.
For an extra kick, finish cookies with a very light sprinkle of Cayenne over top.
Photography, styling and design by Alyssa; photographs ©Alyssa Yeager