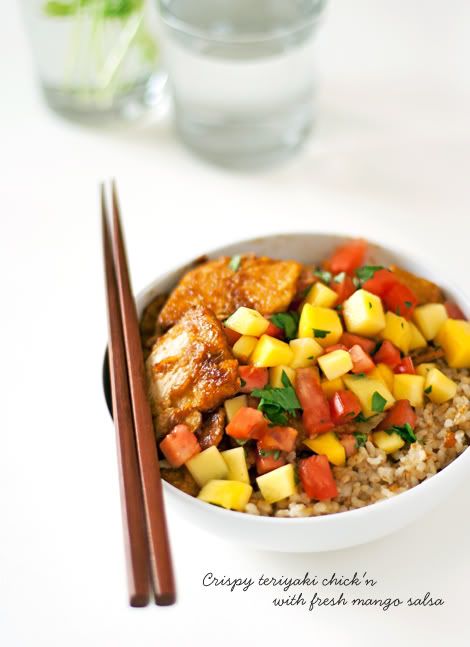 I'm on a Gardein Crispy Chick'n kick
—I really have a thing for it, and the frozen little tenders seem to come out just right every time I use them in a dish. I've used them two different ways already, and I wanted to try a third. Inspired by Todd and Diane from
White On Rice Couple
, I made Teriyaki Chick'n with Fresh Mango Salsa. As "fresh" implies, the salsa is homemade... But so is the teriyaki sauce! DIY teriyaki is quick and definitely not hard (it only requires a blender and a handful of easy-to-find ingredients). I'll explain how:
TERIYAKI CHICK'N WITH HOMEMADE TERIYAKI SAUCE AND FRESH MANGO SALSA
Ingredients
(serves a large meal for 2 with leftover sauce and salsa):
1 package Gardein Crispy Chick'n tenders, sauce discarded
1 tablespoon peanut oil
3/4 cup sticky rice, cooked (I used sprouted brown sticky rice)
1 8-ounce can crushed pineapple (including juice)
1/2 cup tamari
3 tablespoons dark brown sugar
1/2 teaspoon rice vinegar
1/2 teaspoon toasted sesame oil
1" slice fresh ginger, peeled
2 cloves garlic, peeled
1 tablespoon cornstarch
1 tablespoon cold water
1 large, ripe mango, diced into small pieces
1 Roma tomato, diced into small pieces
Small handful of Cilantro, finely chopped
Juice from 1/2 lime
Pinch of kosher, or sea salt
Prepare the teriyaki sauce:
Add the pineapple, tamari, brown sugar, vinegar, and sesame oil to a blender. With a microplane grater, grate in the ginger and grate in the garlic. Blend all ingredients until well combined, making sure the pineapple and ginger are very well crushed (don't forget to place the lid on he blender before you blend away—duh!).
In small bowl, mix the cornstarch and cold water until you have a smooth, white liquid.
Transer blender contents to a sauce pan over medium-high heat. Heat for 1 minute, or until good and hot (and bubbly). Remove saucepan from heat and immediately stir in your cornstarch/water mixture. Stir rapidly until sauce thickens. Set aside and allow teriyaki sauce to cool.
Make the mango salsa:
Combine all ingredients in a small-to-medium bowl, and toss gently (so you don't smash the fruit and tomato) until combined. Store covered in a refrigerator until ready to use. Keeps about 3-4 days.
Cook the chick'n:
Add peanut oil to a large skillet or wok over medium-high heat. Add frozen chick'n tenders and cook, stir-frying until cooked through and golden brown and crispy on all sides. Add 2 tablespoons-to-1/4 cup teriyaki sauce (according to your taste—I like a lot!). Stir-fry and toss to coat thoroughly. Turn off heat and remove pan from burner.
Serve Teriyaki Chick'n over sticky rice. Garnish with a spoonful (or more) of mango salsa. Enjoy immediately.
Photography, styling and design by Alyssa; photographs ©Alyssa Yeager